April 2016, 5
Collaborative development of "stand-up support device" for long-term care with companies Kanazawa Institute of Technology
 Kanazawa Institute of Technology (Nonoichi City, Ishikawa Prefecture) Faculty of Engineering Department of Robotics Professor Ryoichi Suzuki's laboratory and KYB Corporation (Minato-ku, Tokyo), a general hydraulic equipment manufacturer, have an electric standing and sitting support device that can be easily installed in a narrow space. Announced that it has developed.This device is expected to be commercialized in the future because it can be easily installed in the toilets of homes and facilities without major refurbishment.It can also be installed on chairs in houses and public facilities.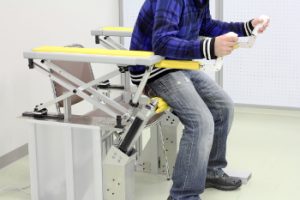 Many elderly people have difficulty getting up and moving, and it is said that the toilet is particularly difficult in nursing care.In general, since the toilet is a small space, it is difficult to carry in the conventional stand-up support device due to the size limitation, and there is a problem that a large-scale renovation is required.
On the other hand, the electric standing / sitting support device invented this time was developed for the purpose of installing in a narrow space such as various facilities and houses, and it should be easily installed without modifying the existing equipment. Is possible.By operating the switch at hand, the user or caregiver can raise and lower the seat surface and handrail, and can sit and stand without straining the legs and knees.In the future, the university and KYB Corporation will widely call on manufacturers to promote commercialization.
 This device will be used at "MEX Kanazawa 2016 (5th Machinery Industry Trade Fair Kanazawa)" to be held at Ishikawa Industrial Exhibition Hall (Kanazawa City, Ishikawa Prefecture) from May 19th (Thursday) to 21st (Saturday), 2016. It will be exhibited.
reference:[Kanazawa Institute of Technology] Department of Robotics Ryoichi Suzuki Laboratory Standing and sitting support device Demo video