April 2015, 7
Computer questions for new university entrance exams, to be introduced from 2024 Ministry of Education, Culture, Sports, Science and Technology draft
The Ministry of Education, Culture, Sports, Science and Technology wants to introduce a computer-based questioning and answering CBT from 2020 in the new entrance examination "University Admission Applicant Academic Ability Evaluation Test (tentative name)" that will be introduced in place of the National Center Test for University Admissions in 2024. I showed it to the Ministry of Education, Culture, Sports, Science and Technology's expert meeting.In 2020, when it was first introduced, we adopted a descriptive question as a paper-based test, and clarified the idea of ​​adopting CBT on a trial basis. The policy is to compile an interim report by the end of August.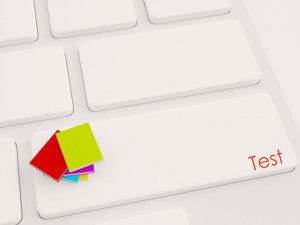 According to the draft presented by the Ministry of Education, the introduction of CBT will coincide with the full implementation of the new curriculum guidelines in high school. At the trial stage from 2020, we will introduce it after considering issues for full-scale implementation such as terminal maintenance, system stability, and security assurance.The difficulty level of the question is set widely assuming that the academic ability of the examinee is wide.Our policy is to prepare high-difficulty questions so that difficult schools can use them easily.In addition to considering the use of personal computers and tablets, we are also considering the introduction of a computer-based scoring support system in the future.
However, about 50 students are expected to take the new entrance examination.There are still many issues to be solved, such as securing a place for implementation, preparing an electronic terminal, and preparing a questioning system that does not cause any problems.In the future, it will be necessary to carry out sufficient consideration to resolve these issues before compiling the final report.
* A test in which questions are displayed on the screen of a CBT computer and answers are entered using the keyboard or mouse.
Source:[Ministry of Education, Culture, Sports, Science and Technology] High School Connection System Reform Conference (4rd) Handouts