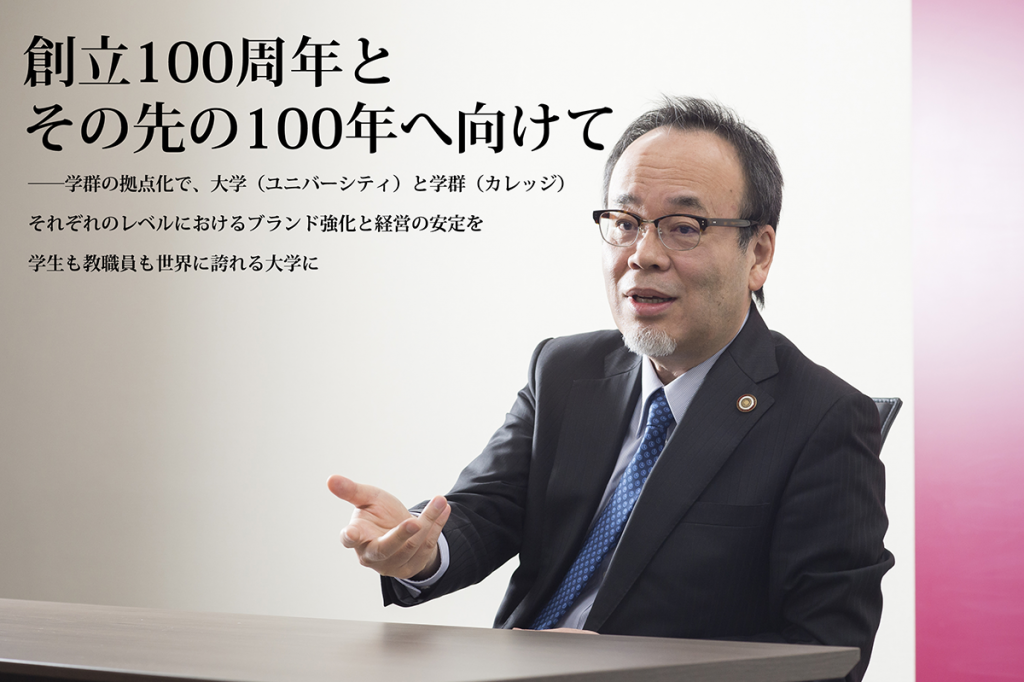 JF Oberlin University will celebrate its 2021th anniversary in 100.Founder Yasuzo Shimizu founded a girls' education institution in a poor area of ​​Beijing, China.The name of the university comes from the fact that the founder learned before the war at Oberin College in Ohio, USA, and the place of establishment was a wooded area of ​​cherry blossoms.Under a liberal school spirit that imitates Oberin College, it occupies a unique position in the metropolitan area private school, centered on liberal arts education and international education cultivated in Beijing.We asked Professor Hiroaki Hatayama, who became the 5th President from this spring, about his aspirations and the future prospects of JF Oberlin University.
Towards the 100th anniversary of our founding and the next 100 years
Past and future challenges of JF Oberlin University
When I took office as president, my mission was to make the university an "internationally accepted campus" and grow it into a "global university in Japan" and a "learning place for people from all over the world" (students). We believe that it is to become a "university where each student can feel the growth" (through realizing each person's dreams and hopes together).
The founding philosophy of our university is "cultivation of international people based on the spirit of Christianity", and the philosophy is that any learning must be useful to society and serve people. It is summarized in the word "jijin" or "neighborhood love".This contribution to others and society, including the history of its founding, is international --- in today's language, being global is the basis of our education and should be changed at any time. I don't think it's going to happen.There is a reason why one school has been around for nearly 100 years, and we must continue to maintain that good tradition.
On the other hand, due to the globalization of the world and the declining birthrate in Japan, the environment surrounding the university and the university has changed significantly.
How will the university survive as the 18-year-old population declines sharply?Society's reputation for higher education institutions is changing, and national support cannot be expected as it has in the past.Under these circumstances, each university is asked what to do and how to contribute to society.
Also, the characteristic of being international can be buried in the conventional method while many other universities in Japan are aiming for global expansion, as symbolized by the Top Global University Project.As the presidents of each era probably did, I am keenly aware that there is a strong need for steering to protect what must not be changed and to lead change in response to changing times and society.
By making the school group a base, the university (university) and the school group (college),
Strengthening the brand and stabilizing management at each level
Under these circumstances, the first challenge for reform is to further promote the college concept, which has been the centerpiece of reform for the past 10 years, and to realize the establishment of a base for the school group.
After the war, our university started from a small college, but now it has grown to be one of the top universities among medium-sized schools with more than 10,000 students.Many graduates have been produced, and responsibility for scale has also emerged.Along with that, we are beginning to see the limits of continuing to be a university with a homely atmosphere (or family-like) that we have been aiming for, and a university where each person can see their faces.
Therefore, 10 years ago, the previous faculties were reorganized into liberal arts and professional faculties, and each faculty became a base for education and research with 1,000 to 2,000 students, based on the educational philosophy of the entire university, that is, the university. At the same time, we have made it possible for each to develop unique education and research in a specific area.It is a shift to a system that has both educational expertise and flexibility.
The ongoing establishment of a base for academic groups is a step forward, with the aim of placing each in a more suitable educational and research environment.For example, the business management group is on the Shinjuku campus in the center of the city, and the arts and culture group is on the Honmachida campus, which is rich in nature.By doing so, I am confident that the university and the school group will be able to enhance their brand power at their respective levels, which will contribute to improving the satisfaction of students and faculty members, which in turn will contribute to the stability of management.
At a university where people who can practice "human beings" and "love neighbors" globally grow up
Our medium- to long-term goal for 2021 and beyond is to become a global university that is highly evaluated both in Japan and overseas. Recognized as "a university where people who can practice" human beings "and" love for neighbors "grow up globally," it is a "university where people from all over the world gather."
Since its establishment, the university has made the development of international people one of the pillars of education, but today, when not only things but also information and culture easily cross the boundaries of the nation, Japanese students can learn English, etc. It is not possible to develop human resources who can deal with various issues in the world just by thoroughly educating foreign languages ​​and letting them study abroad to experience the outside world.What is needed now is to learn with people from other countries, regions and different ethnic groups, to get in touch with their way of thinking and behavior, to understand each other's cultural background, and to acquire international thinking and behavior. is.
Needless to say, it is necessary to send more students overseas to do so, but the only way to get more students to experience this is to make the university itself a global environment. there is no.Universities and universities must be a place that reflects and aggregates the world of the time, just as the etymology of the word means the universe, the world. Universities are now from as many different countries and regions as possible. I believe we must accept faculty and students to form a global community.
Specifically, as shown in the "Internationalization Strategy REDEMPTION 2021", which summarizes the university's medium- to long-term measures for 21, the number of foreign students and faculty members is about XNUMX% or more of the total. I want toIn order to achieve this, in terms of software, it is necessary to adapt the education system, student services, etc. to international standards.On the hardware side, it will be an issue to improve the dormitory and living environment.
In the former case, many universities in various parts of Asia are already establishing common standards, such as conforming to Western standards, and since we have modeled Oberin College, we are ahead of other universities. There are many efforts.Many have already been introduced, such as semester system, advisor system, utilization of GPA, subject numbering system, grade evaluation criteria, late specialization, etc., and by thoroughly implementing these, a system that can be truly globally accepted. I think I can finish it.
On the other hand, on the hardware side, it is not so easy because it requires a lot of money, but if I can not do it, I will not be able to realize what is called a true global university in Japan, and it will be a big addition to students who will leave the future. I think we can't add value.
Regarding increasing the number of foreign faculty members, there are language barriers that we use every day, but the accuracy of translation by AI will increase in the future, so if we make good use of them, we will not be able to make university management multilingual. I'm expecting it.
From the perspective of university management, if we can expand the recruitment of students and recruitment of faculty and staff globally, the business market for higher education will expand significantly, and we believe that we will not be overwhelmed by the declining birthrate in Japan.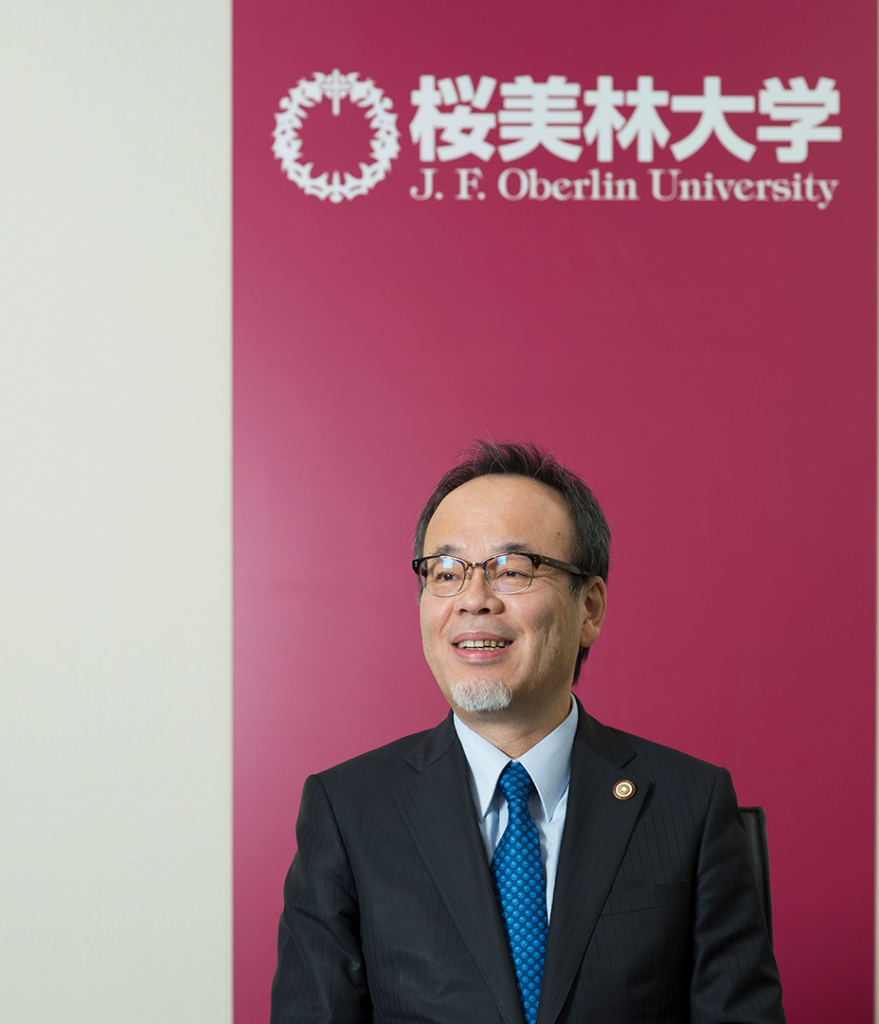 To become a university where each student can feel the growth
As a major change in the environment surrounding universities in Japan in recent years, the reform of university entrance examinations led by the Ministry of Education, Culture, Sports, Science and Technology cannot be overlooked.Instead of selecting students based only on the results of a single academic ability test, which was common in the past, we will change to a method of selecting students that includes the motivation and aptitude of the examinees and activities outside the subject during high school. is.It may be rephrased as a shift from the idea of ​​selecting new students to the idea of ​​giving admission permission.
Until now, in high school career guidance, there have been many places that emphasized the achievements of going on to university and focused on improving the grades of the academic ability test as much as possible.Sending students to a university with a high deviation value, beyond that, is employment in civil servants, large companies, and brand companies.This shouldn't be denied, but I don't think every high school needs to.
Even at universities, private universities with their own educational goals, such as our university, do not have to wait for national reforms, and not only look at the degree of perfection of the academic ability of the subject at the age of 18, but also prepare for high school. We are also looking at club activities, cultural activities, personal values, etc., and are exploring various methods to enroll students who are expected to grow after enrollment.This is because we have seen for many years that many students change significantly in the four years from admission to graduation.
Many of them are students who have been actively involved in various preparations and activities during high school and have developed their own values ​​that are different from deviation values. I haven't spent my time "taking an examination, taking an examination".They grow rapidly when they get new insights, such as meeting teachers.Of course, that doesn't mean we're downplaying general study.On the contrary, we should advocate a "physical person" for the enrolled students and give back their learning and experience to society, and in order to make it bigger and more powerful. He says that he must acquire the highest level of knowledge and skills possible.
Now that the university entrance examination reform is at the starting line, what we have to think about again is to build an enrollment that makes use of the admission reform.We will further enhance the environment in which new students can change after enrollment, the opportunity to meet the awareness for that, and the environment.
To that end, there is an urgent need to develop a service system that allows students to be conscious of following each student in detail from admission to graduation.Of course, this includes extracurricular support with an eye on employment.In addition, we ask faculty members to create an environment where they can concentrate on education and research and aim to improve its quality.We would like to create a large number of small communities of staff and students, and create an environment where we can foster the culture of Oberlin in a diverse group of students, including globally.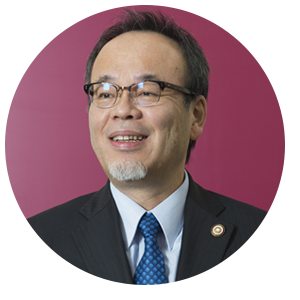 Oberlin University
President
Hiroaki Hatayama
1985 Graduated from JF Oberlin University Faculty of Letters (BA)
1994 Completed Master's Program at Charlotte, University of North Carolina (MA)
2001 Completed Doctoral Program at the University of North Carolina at Greensboro
2010 Massachusetts Institute of Technology Graduate School Master's Program Completed (MBA)
2012 Assistant Director of Sakurabirin Gakuen School / Director of International Center
2015 Vice President of JF Oberlin University
2018 President of JF Oberlin University