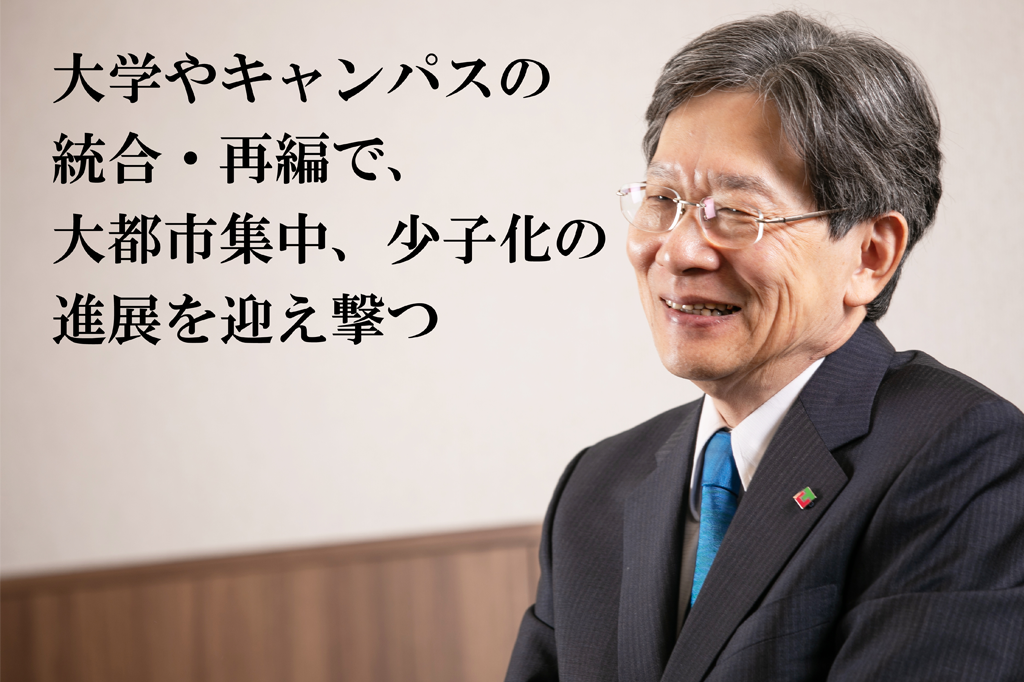 With the declining birthrate, in addition to stricter capacity management, measures are being taken in consideration of small universities and local universities, such as a 23-year freeze on the increase in capacity in the 10 wards of Tokyo, while the umbrella system of national universities is being implemented. You can also hear the footsteps of university reorganization, such as the cooperation and integration of universities with different installers.Under these circumstances, some local private universities that raise a sense of crisis are trying to build up their strength for the harsh winter era through aggressive reforms.Tokoha University, which has its headquarters in Shizuoka City, is one of them. In 2013, 10 universities and graduate schools were integrated into 19 university, 4 faculties, 2018 departments * XNUMX graduate school, XNUMX graduate schools, and XNUMX majors. In XNUMX, a new campus was opened and the campus reorganization was almost completed.We asked President Kenji Kimiya about the past and future prospects of Tokoha University.
* Faculty of Education (Primary Education Course, Lifelong Learning Department, Psychological Education Department) Foreign Language Department (English and American Language Department, Global Communication Department), Business Department (Business Department), Social Environment Department (Social Environment Department), Childcare Department (Childcare Department) ), Faculty of Art and Design (Department of Art and Design), Faculty of Law (Department of Law), Faculty of Health Science (Department of Nursing, Department of Shizuoka Physical Therapy), Faculty of Health Produce (Department of Health and Nutrition, Department of Child Health, Department of Mental and Physical Management, Department of Health Acupuncture and Moxibustion, Department of Health Judo) Department of Rehabilitation), Faculty of Health Sciences (Department of Physical Therapy, Department of Occupational Therapy)
My university theory
 Based on my 16 years of teaching life and XNUMX years of experience as a manager, I believe that history and management power are the most important things for a university.
History requires a minimum of time for graduates to enter society and reach retirement age, as is customary.Only then will the graduates, that is, the outcomes of the university's education, be evaluated by social and university stakeholders.
 The other is management power.It may be rephrased as economies of scale.This is the same for national universities.For better education and research, not only people but also buildings, facilities and equipment cost money, so it is better to have a lot of assets and income.If so, unless you are collecting very high tuition fees and donations, you also need some scale.
 Looking at this university and other universities in Shizuoka prefecture from this point, it is the most historical, except for those that have corporate headquarters in other prefectures, such as Nihon University and Tokai University, those that are mainly medical corporations, and those that are established by the national and prefectural governments. It is our university.However, only XNUMX years have passed since the university first opened the Faculty of Education.The history of other faculties and other universities is even shorter, as the initial graduates are finally retiring from active duty.
 Looking at the scale, which can be said to be an indicator of management power, in the same group, our university has the highest number of students, and the number is almost the same as the total of other private universities.How can local private universities, mostly medium or smaller or smaller, survive in the tough times they are likely to visit and have a greater presence in the future?I feel that the mission assigned to our university is heavy.

Following the 2013 "University Integration", the campus will be reorganized in 2018, and the NEXT OKOHA Declaration will also be made.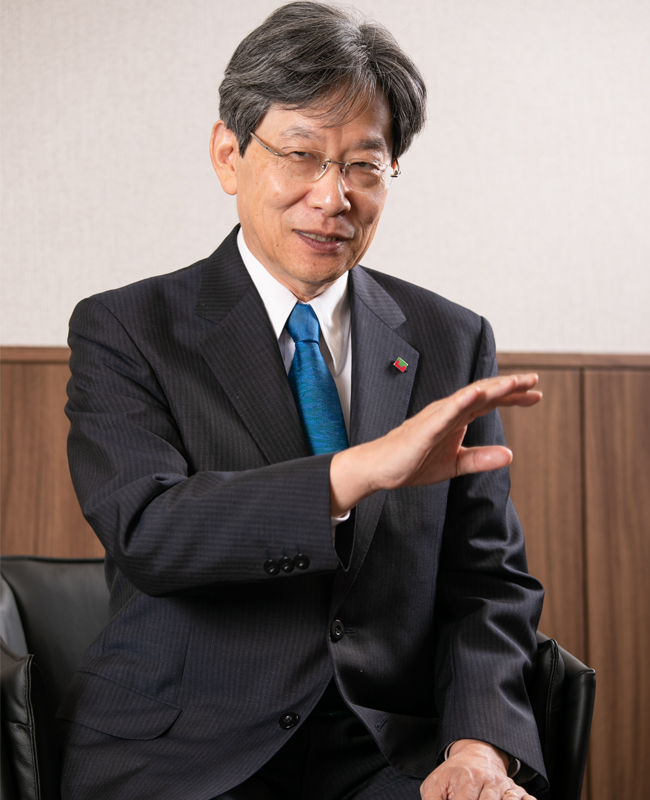 This school opened Tokoha Gakuen University (Faculty of Education) in 1980 in Shizuoka City in the central part of the prefecture. In 1988, Tokoha Gakuen Hamamatsu University (Faculty of Management Information, changed its name to Hamamatsu University in 1998) was opened in the western area, Tokoha Gakuen Fuji Junior College was opened in the eastern area in 1990, and Fuji Junior College was opened in 2000. Reorganized into Fuji Tokoha University (Faculty of Distribution Economics and Faculty of Environmental Disaster Prevention).
 By developing three bases, it is said to be a corridor of the Tokaido, covering almost the entire area of ​​Shizuoka prefecture, which is long from east to west, and has created a foothold for high school students in any district to aim for this school.In fact, the student attendance rate at home has been stable at XNUMX% for many years, and I think we have fully met the needs of parents who do not want to send their children out of the prefecture.
 After that, new faculties were added at each base for about 10 years, and graduate schools were opened and expanded at each campus, including the 2008 teaching profession graduate school.However, with the declining birthrate, some faculties have become unable to stop the decline in enrollment.
 Therefore, in 2013, Tokoha Gakuen University, Hamamatsu University, and Fuji Tokoha University were integrated and reorganized, and the surviving Tokoha Gakuen University was renamed Tokoha University.At the same time, the graduate schools at each base were integrated into the Tokoha University graduate school, and eventually one university, 1 faculties, 10 departments, and one graduate school, four graduate schools were opened.Since the government was to establish two old universities to be abolished, it was a difficult business to make a cardboard box filled with application documents for one large truck and make many round trips.
 In the same year, the junior college was renamed Tokoha University Junior College, and the Mizuochi Campus, which houses the Faculty of Law and the Faculty of Health Sciences, was newly established in Shizuoka City, and became the face of the entire school together with the attached junior high and high school buildings. In 2016, we acquired the site of Kusanagi's factory, in 2017 we changed the corporate name to Tokoha University, and in April 2018 we moved the corporate headquarters to coincide with the completion of the new building, as well as the Faculty of Education and the Faculty of Foreign Languages. Was relocated from the Sena campus.At the same time, the Faculty of Business Administration, the Faculty of Social Environment, and the Faculty of Childcare have been relocated from the Fuji Campus, and a four-campus system based in two major cities designated by government ordinance (Shizuoka City and Hamamatsu City) has been completed.
 On the academic side, we have set up the "NEXT OKOHA Declaration" to aim for the next stage.This consists of five things: (XNUMX) enhancement of the campus, (XNUMX) strengthening of regional cooperation, (XNUMX) continuation of educational reform, (XNUMX) promotion of wide-ranging research, and (XNUMX) expansion of connections. It is based on the three strategies of "integrated strategy of aspects and management", "development strategy of education and research system", and "socialization strategy of integrated university (function)".
 The core is an educational activity called "Tokopro" (Toko Project).In the regular lesson, students collaborate with companies and collaborate with the community with a small number of people. Currently, more than half of all students participate in XNUMX themes.These activities not only "strengthen regional cooperation" but also lead to "continuation of educational reform" starting from curriculum improvement, such as fostering the creativity most required in society through hands-on and interactive education.In addition, the quality of the project is supported by "a wide range of research activities" such as the university's own knowledge base project.
 As for "expansion of connections" for the purpose of university cooperation and social cooperation, the "Fuji no Kuni Area / University Consortium" (XNUMX universities and XNUMX local governments and XNUMX public organizations) was established in XNUMX by the developmental reorganization of the university network Shizuoka. Active participation in participation) is mentioned.

③ Local design from local areas
 Shizuoka Prefecture has a population of about 370 million, making it the 47th largest prefecture out of 10 prefectures.On the other hand, between the metropolitan area and the Chukyo area, the outflow of the 18-year-old population is as high as 73%, and the number of outflows is the second highest in Japan after Hokkaido.There is no doubt that one of the causes is the decrease in the number of employment trays in the prefecture.In the past, Shizuoka Prefecture was close to the metropolitan area, so major manufacturing companies were actively entering the market.However, the outflow has been conspicuous in recent years because there are few flatlands and the land prices have gradually risen.No matter how much effort the university puts into regional cooperation, if the number of recruitment recipients decreases, the results of education cannot be fully returned to students, so I feel sick.
 The national government is currently taking various measures with the aim of regional revitalization, but from the perspective of the local government, most of them are from the perspective of the metropolitan area, and as a result, it seems that they are promoting concentration. I can't.However, the local government does not have a clear vision.If land prices are high, build skyscrapers to attract labor-intensive industries.In addition, since many of the tourists at Shizuoka Airport are from overseas, it is necessary to urgently develop sightseeing spots in the prefecture and establish a system that will allow money to fall to Shizuoka Prefecture.
 In addition, Shizuoka is a land where the climate is warm and comfortable to live in, as Ieyasu Tokugawa, the founder of development, decided to retire. Isn't it the way?With the progress of super-aging and globalization, it should be indispensable to focus on such efforts for "regional development that is second to none in the world".
 This is the background behind the opening of the first law department at a university in Shizuoka Prefecture when the three universities were integrated in 2013.Until then, there was no law department at a national university in the prefecture.Therefore, we decided to open it in order to develop human resources who will be the core of drawing the future grand design of Shizuoka.Now that the graduates are finally starting to advance into government agencies such as the prefectural office and city hall, we can expect synergistic effects with the university's regional cooperation efforts in the near future.
 It can be said that the greatest mission of our university is to nurture young people who can contribute to the realization of what Shizuoka should be, for our university, which has three educational philosophies: growing up with the community, having wisdom, future orientation, and contributing to the community.To that end, we must continue to explore the possibilities of new academic fields and educational organizations necessary to respond to this.Now that the university integration and campus reorganization have been completed, I would like to build up my strength toward the realization of a true local era and devise a plan for that.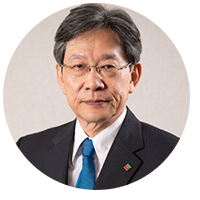 Tokoha University
Director
Kenji Kimiya
Lives in Shizuoka City.Graduated from the Faculty of Agriculture, Kyoto University.Completed the Graduate School of Agriculture at the same graduate school.
1992 Professor, Faculty of Agriculture, Shizuoka University
2002 Inaugurated as President of Tsuneha Gakuen
2007 President of Tokiwadaigaku Fuji (concurrent post)
2013 President of Tokoha University Junior College (concurrent post)
Director of Japan Private University Association, Director of Shizuoka Hospital Association, 2018, Member of Ministry of Education, Culture, Sports, Science and Technology University Establishment / School Corporation Council.Doctor of Agriculture.