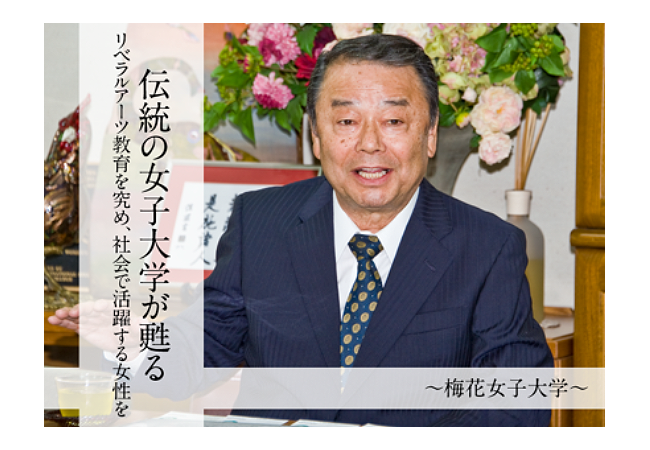 When you get on the pink shuttle bus, you will see the poster "The first day of every month is fashionable day".Baika Women's University (Ibaraki City, Osaka Prefecture), which celebrated the 1th anniversary of the school's founding last year, connects the campus on a small hill in the suburbs with five nearby terminals by school bus to pick up and drop off all students.In the early Meiji era, several schools were established in Osaka by Christian missionaries who were staying in the Kawaguchi Foreign Settlement (* 5), but today the same Christianity was founded by the Japanese. Baika Gakuen.
It is said that Baika Women's University, which inherits this history and tradition, was eager to fill the capacity about 10 years ago.However, the rapid reforms by Kenichiro Kosaka, who became the chairman in 2010, have been successful, and in recent years, they have been called the winners at women's universities in the Kansai region.
Mr. Shuichi Nagasawa, who was appointed president at about the same time as President Kosaka, and Miki Fujiwara, who was a graduate and led the planning and public relations department of the school as the director of the planning department, became the managing director from last year. I asked about the future prospects.
(* 1) From 1868 to 1899, it was located in the northern part of Kawaguchi 1-chome and the northern part of Kawaguchi 2-chome, Nishi-ku, Osaka City, Osaka Prefecture.
XNUMX. XNUMX. "Challenge & Elegance" -The Spirit of Founding Now-
<Kosaka>
In recent years, in Japan, coupled with the declining birthrate and aging population, the concentration in Tokyo has progressed, the rural areas have become exhausted as the population declines, and the diverse traditions and cultures that have been carefully protected and nurtured have declined. The tendency of "change" is becoming more and more prominent year by year.
This direction of "uniformization" seems to be appearing in the education industry as well. Along with the "market principle," co-education of boys'and girls' schools, relocation of private universities to metropolitan stations, and expansion of reforms such as the establishment of the same department.
As a result, it seems that the number of private universities with a strong and unique school spirit is decreasing, and the development of diverse students is waning.
Originally, private school should be based on the founder's founding spirit, and the mission should be to educate and, as a result, send various people to society.For that reason, in order to make the best use of the founder's thoughts in the present age, we are particular about the Christianity, women's university, small-scale university and Ibaraki Garden Campus, which are the foundations of our university. We are advancing reforms every day with the aim of becoming a university with a completely different personality.
<Nagasawa>
The first is Christianity, which forms the basis of the founding spirit.Paul Sawayama, the founder of Umehana Gakuen, who is also a Protestant minister, is worried about the chaotic future of Japan immediately after the Meiji Restoration. I thought it was more important than anything else.
It has been 141 years since then.Baika Gakuen's school motto is "Whatever you want people to do, do you," (Matthew 7:12), a scripture sung by the founder, and has been 6 to this day. We have sent out graduates who exceed their names to society.
Today, the school motto is expressed with the slogan "Challenge & Elegance."A beautiful woman who finds and solves problems for others, and who has Christian character and compassion.Our goal is to foster independent women who actively contribute to society.
<Fujiwara>
Beginning with the entrance ceremony, each ceremony is held in a Christian worship style so that students can feel the spirit of Christian love.We also have weekly chapel worship services for all students and have time to quietly look at ourselves.And every December, we hold a big Christmas event on campus.Nowadays, people from many regions have participated and it seems that it is becoming a specialty of Ibaraki City.
XNUMX. XNUMX. "Fashionable women with work power" -Education policy of small universities-
<Fujiwara>
In order to provide better education, the first step is to secure applicants and high school girls.One of the high school girls' dreams is a beautiful university.That is where you really become beautiful.
On the other hand, it is thought that the parents expect the undergraduate education that leads to the work of women.Therefore, a catch phrase called "a fashionable woman with work power" was born.
<Nagasawa>
Due to the reorganization and reorganization of the past few years based on this policy, the university is currently 4 faculties and 9 departments (Faculty of Cultural Expression: Department of Information Media, Department of Japanese Culture, Department of International English, Faculty of Psychology and Children: Department of Child Education, Department of Psychology, Food Culture) Faculty: Department of Food Chemistry / Department of Management Nutrition, Faculty of Nursing and Health: Department of Nursing / Department of Oral Health). There are XNUMX graduate schools (Graduate School of Contemporary Anthropology, Graduate School of Letters, Graduate School of Nursing and Health Sciences).
It is a small and diverse university with a capacity of 495 students enrolled in all faculties, which is rare in Japan.The number of students in one department or less of a large university.Naturally, the number of students per full-time faculty member is small, only 24.44, compared to the national average of 14.24.It's not easy financially, but by pursuing thorough cost-effectiveness, it is now in balance.
In addition, each department in various academic fields will have full-time faculty members in various research fields throughout the university.As a result, it has become possible to think that the liberal arts courses (elegance courses) for all students are mainly carried out by full-time faculty members who understand the spirit of founding.Aiming to be a truly elegant woman, we have set up courses unique to our university, such as "The World of the Bible", "Beautiful Japanese" by active announcers, and "Ballet and Dance".
On the other hand, each faculty and department is reforming specialized subjects called challenge subjects.Level up the challenge power.I want you to improve your expertise by improving your ability to find and solve problems.Therefore, in addition to exercises, we are now incorporating interactive lessons such as active learning into many lessons.Education that can only be done by a very small number of departments, such as departments with a capacity of 30 people per department.I would like to continue to pursue thorough "custom-made education" that suits each student.
All students have different personalities, ways of thinking and values.For that reason, we must deeply understand students, provide education that motivates each student to study, and promote their growth as a person.If you just want to convey knowledge, you can learn outside of university.
<Fujiwara>
In addition, qualifications and employment are important for female students to play an active role in society throughout their lives.Full-time faculty and staff play a central role in providing detailed support so that all students can acquire their respective qualifications and find employment without mismatches.
<Kosaka>
In any case, we will continue to take on the challenge of becoming a university with "liberal arts plus practical education" that is unique to small universities.
<Nagasawa>
"Teachers" are the main consideration for tuition fees.It is essential to improve the research ability of the faculty member.And education.As part of this, as a "class practice report meeting" to announce each student's efforts, we provide an opportunity to present our class once a month before the university faculty meeting and in order in front of all faculty members.We hope that all the faculty members will share the ideas of each class and that the educational content of our university will be enhanced.
In addition, for students, the Education and Research Support Center surveys the learning abilities of the first and third years every year and uses them for the guidance of all faculty members.In addition, teachers visit each other's lessons twice a year to share their impressions from the student's perspective.
<Kosaka>
Our university is only a small university, and the university management is compact.In order to aim for liberal arts education, the faculty meeting is only the university-wide faculty meeting.There is no undergraduate autonomy.All faculty members are responsible for the liberal arts and specialized education of all students.I ask the president to manage the entire university as if he were a dean.
Regarding the administrative organization, as part of the rationalization of the organization, the secretary-general system of the school corporation was abolished last year.This is to ensure that the voices of the field directly reach the managing board, which is responsible for management, and to reform speed.Thanks to this, each site has become enthusiastic about making proposals and implementing them.
In addition, the university takes advantage of the characteristics of small universities to carry out various educational activities for all students.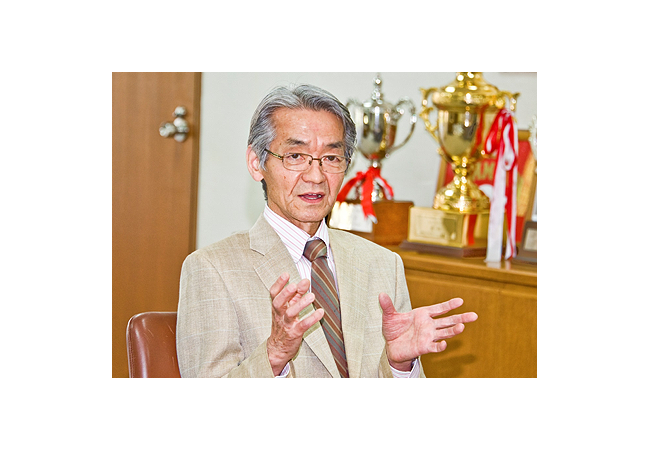 XNUMX. XNUMX.Global Communication Village
<Nagasawa>
From 2018, in addition to English classes as a general liberal arts subject, Global Communication Village has started, where all students can freely and comfortably have English conversation with native teachers.In the near future, we hope that all students will enjoy English conversation, and that this facility will become a base for international exchange and produce many students who can take on the challenge of cultural exchange around the world.
XNUMX.Industry-academia collaboration
<Fujiwara>
We are actively engaged in "industry-academia collaboration" to enhance the educational effect.This is for all students to interact with working people and companies at an early stage and prepare to play an active role in society.Recently, the requests from companies have been constantly increasing, and the attention of society has been attracting.We count XNUMX cases in the last XNUMX years.
Industry-academia collaboration is generally based on the same field as the laboratory and the company.However, in the case of our university, we are not particular about it, and we are characterized by efforts to utilize the "sensitivity" of women.Nowadays, every company is enthusiastic about creating new ideas.According to companies, the ideas of female students at co-education colleges who interact with men are different from the ideas of female college students who only have girls.It is useful that many of the ideas of women's college students are unique.
The reason may be that female students at co-education colleges, which have a structure similar to that of the real world with boys, inevitably incorporate a lot of male opinions.In terms of industry-academia collaboration, the university has participated in Umeda's Grand Front Osaka Knowledge Capital as a satellite since its opening.
"Fusion of technology and sensibilities," "Intellectual creation and exchange," "Creating the future with everyone's power," and "The world's most moving emotions are born."These concepts, "THE Lab. The World's No. XNUMX Research Institute for Everyone," matched the environment that our university was looking for.One of the strengths of this small university is that almost all students can experience industry-academia collaboration.Students with the Department of Nutrition and Dietetics have received nine ideas from companies.It was impressive that she was able to find her future by being involved in product planning.
<Nagasawa>
It is a valuable social experience for students.You will be able to acquire practical skills and elicit a desire to study.I think it will be useful for getting a job.
<Fujiwara>
This is a recent case.We are making a picture book called "Mugi-chan's Bread" in collaboration with AUTOBACS SEVEN, a major car accessory sales company.The themes are traffic safety, the fun of riding a car, and gratitude.Picture books are sold at the company's stores and website.Sales are going well, and part of the sales are donated to the Transportation Orphans Fund.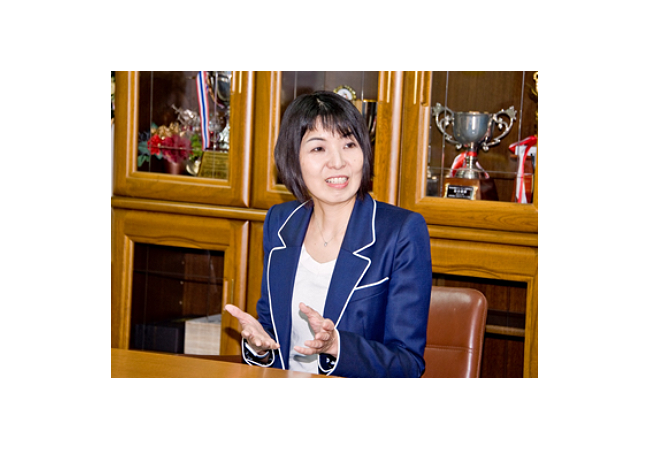 XNUMX.Bunmai Ryodo
<Fujiwara>
The representatives of "Challenge & Elegance" are the cheerleading club "Raiders" and the Umehana Opera Company "Theatrical Company Konohana".
"Cheerleading Raiders"
The members are from Hokkaido in the north to Kyushu in the south, and from all over the country, they hit the gates of Baika Women's University, and currently there are more than 50 members (69 in middle and high school).Over the past 24 years, he has consistently achieved outstanding results in each tournament, including six national championships in the Japan Cup.Students do not have coaches, but think for themselves, discuss, assemble and practice acting.With the motto of "energy," "courage," and "smile," the members have achieved a balance between study and club, and have been playing an active role as the face of plum blossoms for many years.Job hunting is also sought after by companies.
<Nagasawa>
Last year, at the ceremony to commemorate the XNUMXth anniversary of the school's founding, the English cheering song "Challenge & Elegance" was born in the image of Raiders.It is popular with students and graduates.
<Fujiwara>
"Umehana Opera Company, Theater Company This Flower"
In 2016, the Baika Opera Company was established at Baika Women's University based on the performing arts major of Baika Junior and Senior High School.Unlike the musical majors and art faculties of art universities, you can study performing arts while belonging to existing faculties such as the "Nursing and Health Faculty".
Therefore, we will train students who are both academic and opera, so to speak, "Bunmai Ryodo".
Guidance will be provided by leading stage performers, including the Takarazuka Revue and the famous visiting professor Tamae Sha, who directs and choreographs the Shiki Theater Company.Students are aiming for a professional-looking real stage by practicing hard every day.The results of the practice have been announced in various places in addition to the performances on campus, and are now a specialty of Ibaraki City, and even appear on the cover of the city's public relations magazine.
I hope that the students of the theater company will improve their sensibilities and become expressive members of society.For example, a student in the Department of Oral Health will play an active role as a dental hygienist who can play musicals.
XNUMX.Ibaraki Garden Campus-Oasis adjacent to the city
<Kosaka>
All the customers who come to the chairman's office say, "It's a beautiful campus."I am convinced that this campus is the clearest in the air.That should be it too.The surrounding area is all green.In recent years, an increasing number of universities are relocating their campuses to the front of stations in the city.Our university is the opposite.A comfortable campus environment with flowing rivers, classical music, flowers and greenery.
Based on this beautiful campus, students "grow" every day by "interacting" with students, faculty and staff, and various other people.In the future, I would like to further improve the campus with the aim of creating an elegant European-style campus based on white buildings, flowers and greenery.
<Fujiwara>
I think one of the good points of women's colleges is that they are "safe and secure".The university transfers and transfers all students from five nearby terminals to the campus.I don't think there are many places in Japan that are targeted at all students.The bus, which takes about 5 minutes each way, has the effect of improving manners such as public transportation.Thanks to this, when we hear the voices of our customers, the students naturally greet us, and it seems to have a good reputation.
<Nagasawa>
Every morning, the school bus is greeted by students from the psychology training dogs (Standard Poodle dog, female) "Ume-chan" and "Hana-chan".It is the scenery where the campus life of the day begins.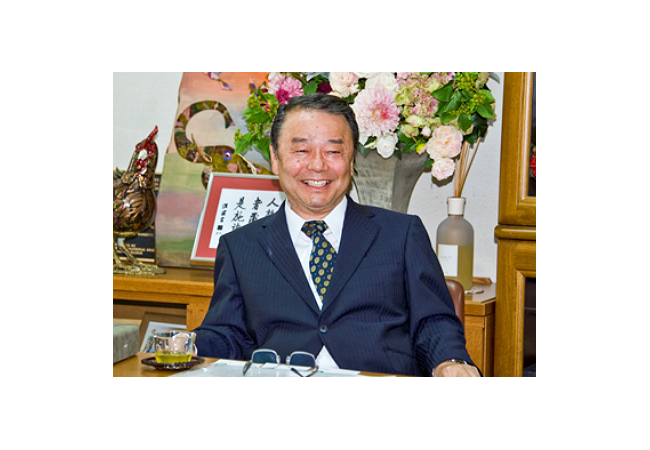 XNUMX.in conclusion
<Kosaka>
Compared to the turbulent times of the early Meiji era when Baika Gakuen was founded, Japan is now a developed country and a wealthy country.However, the truth is that we are entering an era in which the future is uncertain in a sense different from when the school was founded, such as the declining birthrate and aging population, the decline of rural areas, political distrust, family collapse, and diplomatic issues.
For that reason, I think it is important to educate young men and women who will carry the future of Japan.Currently, private universities, which account for about 8% of Japanese universities, are advocating the training of "ideal people" with various slogans based on the founder's founding spirit.However, as I said at the beginning, in recent years, due to the relationship of "market principle", it seems that each private university of co-education is losing its individuality and characteristics.
On the other hand, women's colleges are not ideal people, and the founding spirit is to nurture "ideal women" (on the other hand, there is no university only for male students whose founding spirit is to nurture ideal men. ).In the future, as a mirror that reflects the ideal man, I think that a university that pursues the ideal woman is necessary.
Baika Women's University aims to foster elegant women with a spirit of challenge and truly beautiful shining based on the spirit of Christianity.If a woman shines beautifully, a man will shine and Japanese society will develop.
<Nagasawa>
"Challenge & Elegance".First is the faculty and staff.Faculty and staff must set an example for students, not only in words, but also as men and women.All faculty and staff must work hard and grow every day, aiming for the ideal women's university.
For students, college is the most important time of their life in pursuit of their "dreams."I hope that all students will pursue their dreams and lead a fun and fulfilling university life.