Aug. 2021, 2
Message from the top of the university to high school students Towards Corona
Ritsumeikan Campus DX makes it a campus where "everyone can learn and learn from each other anytime, anywhere"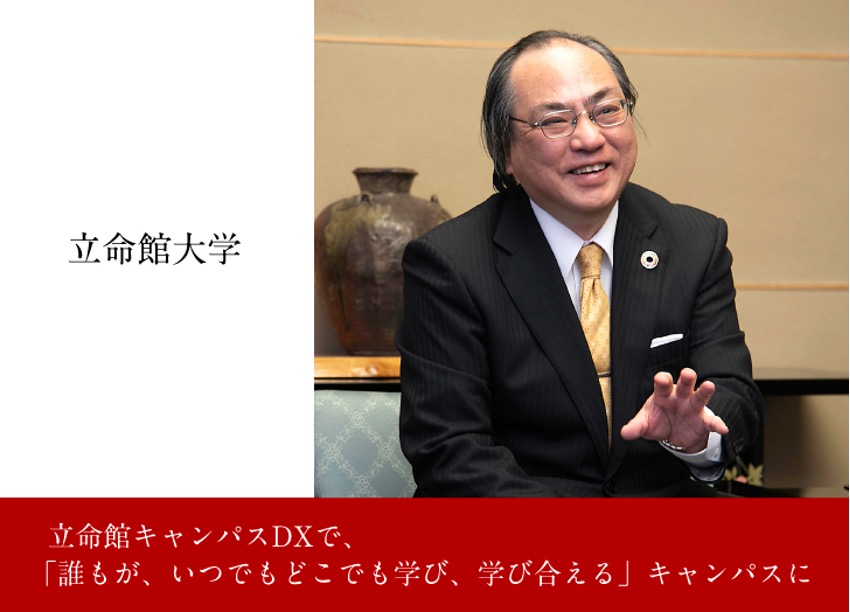 Ritsumeikan University is 150 years old and 120 years old.The founding spirit is "freedom and freshness," and the theological philosophy is "peace and democracy."Last fall, we formulated the medium-term plan "Gakuen Vision R2030 Challenge Design" with an eye on 2030.We aim to be a "next-generation research university" that works on the creation of social symbiotic value and innovation to solve social issues common to humankind.Professor Yoshio Nakatani of the Faculty of Information Science and Technology, Ritsumeikan University, who became the president two years ago, studied psychology at the university and experienced artificial intelligence research and SE at a private company where he got a job.Since becoming a university faculty member, I have accumulated a career as a dean and then a president.We asked Professor Nakatani about the ideal state of the university in post-corona and the challenges of Ritsumeikan in the future.
What is a university?
Universities are places for intellectual creative activities, and I think they contribute to solving various problems by continuing to give intellectual stimulation to society.Of course, there are a wide range of fields, from engineering that aims to contribute directly to things that contribute as a result, such as philosophy.In any case, I think it is important for each position to face society and involve students in intellectual creative activities.
In 2018, Ritsumeikan formulated "Gakuen Vision R2030 Challenge your mind Change our future".This is a declaration of the courage and determination that we will take on the challenge because it is a difficult time to look ahead.Furthermore, based on the Gakuen Vision R2030, we formulated a challenge design as a university in November last year, and our university emphasizes the following two points.
One is to aim to become a next-generation research university recognized in the world.Research is also referred to as inquiry in a broad sense, but I would like to see the graduate school pull the whole with its research ability, and to be stimulated by it to enhance the inquiry ability in undergraduate education.The other is to contribute to social change or the creation of innovation through practice, such as using it to solve social issues."Refreshing" in the spirit of founding can be rephrased as "innovation" in the sense of "renewing".We want to be a school that develops human resources who will change society in the spirit of creativity and innovation.
Throughout the school, elementary schools and all four affiliated high schools are continuing their efforts to develop their inquiry skills.All high schools are selected for SSH (Super Science High School), SGH (Super Global High School), or both. After the SGH project was completed, Ritsumeikan Uji High School was selected as the base school for the "WWL (World Wide Learning) Consortium Construction Support Project".Universities must be able to respond to their inquisitive minds in order to accept students from affiliated schools who have developed an inquiring spirit at an international level.If faculty members further improve their research capabilities and produce results, I think that a virtuous cycle will be created in which excellent young researchers and international students will come from overseas.