Aug. 2022, 7
"Peace in the world through language" The importance of foreign language education now required
Kyoto University of Foreign Studies has two faculties, a faculty of foreign languages ​​where you can study all 19 languages ​​and a faculty of international contribution.Aiming for foreign language education that is necessary only in this era, we are developing learning unique to Kyoto, an international tourist city.
Foreign language education that leads to "peace" to understand others and different cultures
 "When you hear the word" foreign language university "in Japanese, many people think of a school that only learns foreign languages, but please check the English notation of Kyoto University of Foreign Studies once," he says. Professor Takahiro Ono, Dean of the Faculty of Foreign Studies, Kyoto University of Foreign Studies.Certainly, the English notation is not "Kyoto University of Foreign Languages" but "Kyoto University of Foreign Studies".
"This is not just a school that learns languages, but a university that learns the history, culture, politics, economy, etc. of each language area from various angles through languages. It shows that we are aiming to acquire the ability to grasp and think about things, "continued Professor Ono.
 The founding spirit of Kyoto University of Foreign Studies, "PAX MUNDI PER LINGUAS," contains the desire to "peace the world through language."The predecessor Kyoto Career College of Foreign Studies was born in 1947.When World War II is over, wishing for world peace, and wishing for peaceful exchanges with foreign countries, we reaffirm the importance of communication as a means of mutual understanding, and the language skills and international community for that purpose. It is inevitable that we thought that education to understand was essential.That feeling resonates with me now.The fact that the founding spirit was deliberately changed to Latin as "Pax Mundy Perlingas" indicates that the language learned here is not limited to English and other languages ​​with a large population.The languages ​​that can be learned in the Faculty of Foreign Studies are 19 languages, which is the highest level in Japan.
 
A campus called "Kyoto" where you can learn from the city and visitors
 Kyoto University of Foreign Studies is located in the ancient city of Kyoto.It is a tourist city that represents Japan with 17 world heritage sites such as Kinkakuji Temple, Nijo Castle, and Kiyomizudera, which are international cities where you can feel the traditions and culture of Japan and the various languages ​​of foreigners visiting.It can be said that the entire city is a campus for learning a foreign language.Is there any other environment that is so suitable for learning?
 At Kyoto University of Foreign Studies, a club called the Free Guide Club (FGC), which guides foreign tourists, has been active for a long time.When learning a foreign language, it is important for the learner to have the content, information, and desire to convey.After overcoming the Korona-ka, in Kyoto, an international tourist city, there will be no shortage of information that you want to send and foreigners that you should convey through the activity of a guide.Kyoto University of Foreign Studies plans to actively incorporate such learning that connects with the real world into its curriculum.
 The "Faculty of International Contribution", which was newly established in 2018, is also developing learning with both "theory" and "practice" unique to "Kyoto".In the "Community Engagement Program," which is the core of learning, we work with local communities in Japan and overseas to solve problems in collaboration with the people who live there.In Kyoto, you can understand the history, industry, and culture of Kyoto while experiencing the work of companies and inns that run traditional industries.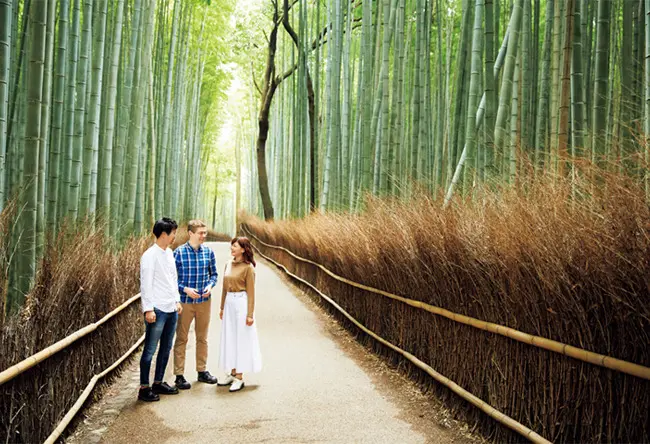 Multilingual education that is not bound by the frame Borderless learning at Kyoto University of Foreign Studies
 "Borderless" is a simple way to describe the learning of Kyoto University of Foreign Studies.You can learn languages ​​other than majors without being bound by the department.Among them, "Two-language simultaneous learning", in which you learn another foreign language at the same time centered on English, is popular with students because it is full of surprises and discoveries every time.Some English-speaking international students, non-English-speaking international students and Japanese students, as well as English teachers and two teachers in another language take classes, while in English and French, movies are used as teaching materials. In English and Chinese classes, students at both ends become speakers of English and Chinese, respectively, in groups of three, and the central student trains their language skills by interpreting in two languages. Taking advantage of the characteristics of the language, the content of the lessons varies depending on the language.
 Every year, many students majoring in other languages ​​such as French and German gather at the seminar of Professor Ono, who specializes in English.This is to write a comparative theory between the major language and English.
 
 The teachers devised an online lesson so that they would not stop learning even in the Korona-ka.We also actively promoted online collaborative learning with overseas affiliated schools to enhance our educational capabilities.These efforts have been fruitful as "classes that improve reliable language skills" and "classes that deepen international understanding."
 Professor Ono said, "I wasn't very keen on studying when I first entered university. But at the end of my third year, I was completely devoted to the existence of American linguist Noam Chomsky. My strength has grown surprisingly, so I don't think there is anything that fits this word better than foreign language education, saying, "Love is good at things." Chomsky and learning foreign languages ​​are interesting for me. The reason for this is rolling around at Kyoto University of Foreign Studies. Please take the first step to meet it. "