Nov. 2022, 10
A new classroom building "Building No. 14 LECRO" has opened on the Koshigaya Campus of Bunkyo University!Challenge to revitalize new communication
Bunkyo University will celebrate its 2026th anniversary in 60. In 2021, the new "Tokyo Adachi Campus" will be opened in Adachi-ku, Tokyo, and the Faculty of International Studies and Faculty of Business Administration will be relocated from the Shonan Campus to the "Koshigaya Campus" in Koshigaya City, Saitama Prefecture, where the Faculty of Education, Faculty of Human Sciences, and Faculty of Letters will be located. , The Shonan Campus in Chigasaki City, Kanagawa Prefecture is home to the Faculty of Informatics and the Faculty of Health and Nutrition.
 On July 2022, 7, "Building No. 11 LECRO" was completed on the Koshigaya Campus (Koshigaya City, Saitama Prefecture) as a classroom building for the development of new education.Located in front of the main gate of Koshigaya Campus, the new classroom building is the face of the university.It is an impressive building that coexists with a sense of openness that accepts diverse people and a presence that creates the first impression of the campus.
 "LECRO" is named from the words "LECTURE" and "ROOMS". The five-story classroom building consists of a "static area" focused on classroom functions and a "dynamic area" where students can freely use the space, making it flexible for a wide variety of classes and events. We can handle it.
 Classrooms on the 1st to 5th floors are equipped with state-of-the-art classrooms that are compatible with distance learning, etc., and each lounge on the 3rd to 5th floors allows students to choose the floor according to their own usage. can be used in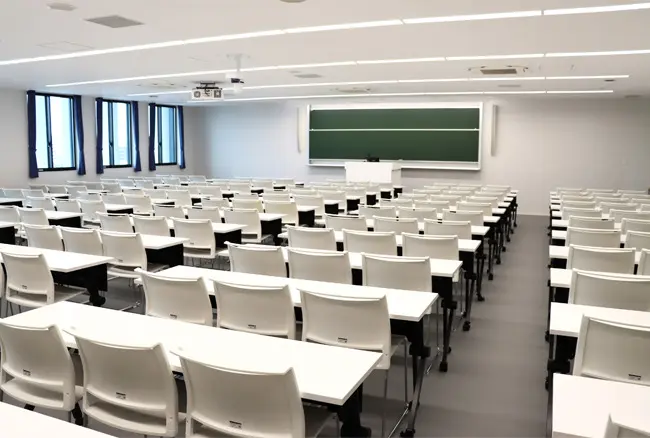 There are three lounges. As a way to improve the quality of your stay on Koshigaya Campus, the third floor is a space where you can casually stop by, take a break, and enjoy group conversations, while the fourth floor is a creative space that can be used for collaborative work and information sharing. The space, and the 3th floor, have different designs according to the purpose and the space where each person can keep a sufficient distance and concentrate on individual study.