2023. 3, 27
Showa Women's University x Komaba Toho Junior High School Held a class that will be the culmination of three years of "Project for female college students and boys' junior high school students to think together"
On February 2023, 2, Showa Women's University (Chairman and President: Mariko Bando: Setagaya-ku, Tokyo) and Komaba Toho Junior High School (Principal: Kazuhiko Oya) held a three-year initiative titled "Female college students and boys' junior high school students together." The culmination of the "Thinking Project", a class titled "Compromise", was held on the campus of Showa Women's University.Before the start, junior high school boys enter the large classroom one after another.Now that I have experienced the corona wreck, I was deeply moved by the scenery where the students gathered together while wearing masks.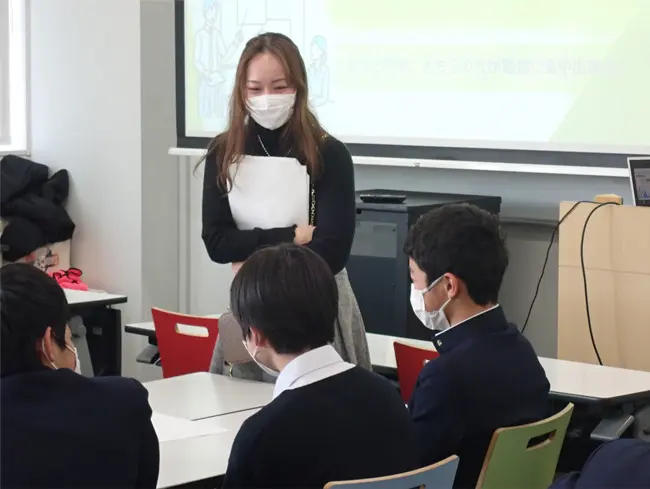 The impetus for the project was the participation of teachers and students from Komaba Toho Junior High School in a seminar on gender equality at Showa Women's University. rice field.
 In this project, students from a women's college and junior high school students from a boys' school, who probably have few points of contact and have different values, think and deepen their dialogue on a number of themes together, with the aim of understanding each other.The long-awaited face-to-face class has been realized in the third year since the beginning of the online class, which was hit by the corona wreck.
 Participating in the project are 1 4st to 22th graders from Showa Women's University's Faculty of Global Business and Humanities and Social Sciences, and about 3 240rd graders from Komaba Toho Junior High School.
 Junior high school students are divided into XNUMX classes, and several college students are in charge of each class.Showa Women's University has adopted a "teaching assistant (TA)" system in which students teach students, and Showa Women's University students who have undergone this training act as facilitators in teaching.
 The theme for 2021 is "The Transition of Disney Princesses" and "The First Gentleman", and the theme for 2022 is "What would you think at a time like this?" I've been thinkingThis time, through group work, we first thought about the environment in which we were placed, the merits and demerits of ``sex-segregated education,'' and the historical background.
 Among the merits of gender-segregated education, junior high school students said that "geeks are respected," "strong unity," and "there is no need to worry about others." He said, "I feel nervous when communicating with the opposite sex."
 I heard the same opinion from university students, and while they both felt comfortable in the environment of "Betsugaku" where they were placed, they were worried about going out into society and living in diversity. I could see that they had a sense of challenge.
 In response to the question, "Is segregated education necessary or not?", I answered that all workgroups divided into several students are necessary.While recognizing that there are demerits, there are opinions from an objective point of view, such as the feeling that the merits outweigh the demerits, and the necessity of "separate education" as an option along with "co-education". rice field.
 When I asked a junior high school student about this project, he said that although he felt that he had to take some action in participating in this project, he did not take any concrete actions.
 Koji Mukai, a teacher at Komaba Toho Junior High School, said, ``At this point, we have taken this class for three years, so there is no visible change in the behavior of the students. Apart from that, during the extremely sensitive period of middle and high school, we tenaciously provide our students with various experiences and opportunities for them to think individually so that they do not become biased in their way of thinking because they are not involved with the outside world. I think we have to do it," he says.
 At Showa Women's University, Associate Professor Akiko Komori (Faculty of Global Business), Executive Director of the Modern Business Research Institute, who is in charge of this project, also said, ``At first, the image of female college students was 'crying,' 'crowding,' and 'playing around. Negative words such as "I'm here" were lined up in the questionnaire for junior high school students. I was happy to read that, and I think that the students also noticed various things through the planning and preparation of this project.
 In particular, while making materials for classes, I thought, 'Huh?In fact, unconscious bias is not only for women, but also for men, right? It seems that I have also noticed the "unconscious bias" in myself, such as "It's hard to live, and maybe in Japan, it's harder for men to live."Above all, teamwork and leadership have grown visibly.For the sake of a project that had a partner, I was working hard, and there were times when I felt like I was being dragged in the opposite direction."
 At the end of the class, we had a discussion about issues in occupations and companies with gender bias, and what we should do to create a comfortable workplace if we were managers, while introducing examples of actual company initiatives. rice field.
 As specific measures to eliminate overtime, companies have already implemented measures such as ``making a system in which wages increase if you do not work overtime,'' and ``using each person's strengths, rather than individuals, in a task format and cooperating in teams to complete the work.'' There were also announcements with high feasibility that were being worked on.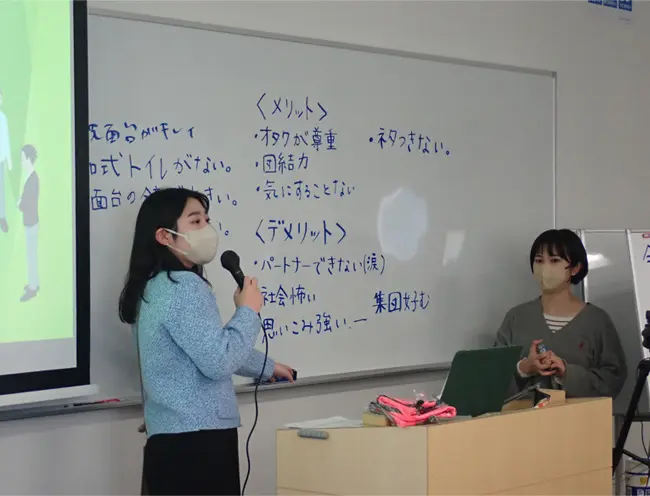 Following the presentation, the university student who acted as the facilitator concluded the class by asking, "In the diverse society of the future, it will become important to recognize differences and compromise."After class, a student who has been participating in this project for two years said, "The preparation was hard, but I remembered last year's 'unconscious bias' and wrote down my opinion on this worksheet. There were students, and it was worth the effort."
 In group work, some students speak actively, while others listen quietly.It was impressive to see junior high school students positively working on their work in their own way, and university students trying hard to listen to the opinions of junior high school students and enrich their discussions.
 Not only gender, but also discrimination and disparity, each problem has a gradation.For various social issues, we tend to seek the immediate effect of solving them all at once.However, it was a class that made me think again about the importance of trying to get to know each other first, and the importance of actually meeting and communicating, by their attitudes and frank opinions.