2023/9/14
In an era where university recruitment has been suspended one after another and women's universities and junior colleges have strict conditions, why do high school students flock to small women's junior colleges?
Always from a high school student's perspective, not from a university's perspective.
 The Toita Women's Junior College pamphlet, which you might at first mistake for a commercially available women's magazine, is designed to look like a magazine read by high school students.The model on the cover is a student, and the inside page features more than 1 students (compared to other university guides), making it very similar to a women's magazine.When creating a university guide like this, the concept, design direction, photo selection, etc. are not left up to the production company, but are decided one by one by the public relations staff.This is because the role of public relations is to coordinate the overall branding of Toita Women's Junior College, and it is necessary to avoid the risk of ``homogenizing ideas'' by incorporating various opinions.
 For example, he says that the common ``want to create a sense of uniformity throughout the pamphlet'' is a bad thing.In the case of Toita Women's Junior College, one of its strengths is that the departments, students, and learning styles vary, so the page layout and design are completely different for each department.Precisely because the concept is to have individuality, it is surprisingly difficult to proceed without deviating from this point.This is because people tend to gravitate toward things that are stable, and they inevitably want to create a sense of unity if they are at the same school.Furthermore, if the content becomes bland and ``homogeneous'', it will become difficult to differentiate itself from other universities and vocational schools and to highlight its appeal.

Involving students and making them themselves "media"
 He says that he receives many inquiries from other universities and vocational schools about how to communicate on websites and SNS for high school students, who have to use smartphones to communicate on a daily basis.
 ``Instead of PR taking the initiative to spread the word on SNS, we should intentionally create a mechanism that will make students want to brag about their university projects on SNS, and a place where students can actively participate = a scene that will make them stand out.'' This is important.At Toita Women's Junior College, we have school festivals held three times a year, dance clubs, club activities, extracurricular activities, and corporate collaborations.
Among them, the most attractive thing about Toita Women's Junior College is the open campus student staff ``Team Toitan.'' "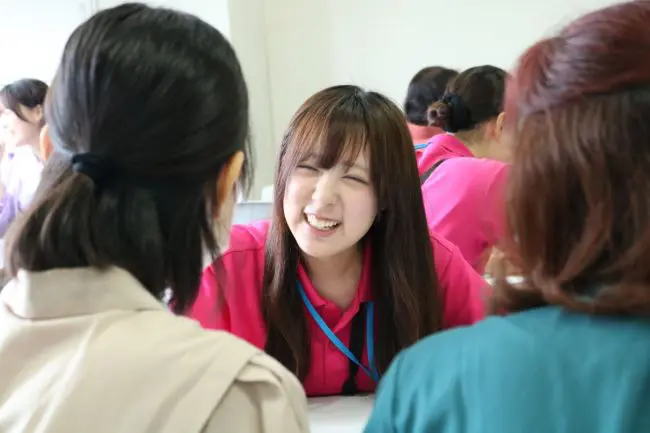 Currently, ``Team Toitan'' is working with the goal of ``the most inspiring open campus in Japan.''By setting their own goals, the students seem to have strangely become disciplined in their actions, words and deeds as representatives of the school, as if they were the best in Japan.
 ``They serve as the press and planners for Toita Women's Junior College, communicating with high school students, their parents, and high school teachers, and are involved in student-led operations such as open campus events, experience planning, and presentations. When visiting the open campus of Toita Women's Junior College, there are many high school students who admire the students' energy, attitude, and hospitality, and wish to enroll at Toita Women's Junior College.
 To be honest, Toita Women's Junior College is a small junior college with a capacity of 400 students.In today's world of four-year universities, it may be better to say that parents and high school teachers' first impressions and popularity of our schools are largely unknown.However, due to the marketing measures mentioned above, high school students who come to the open campus actually come to the open campus by saying to their parents and teachers, ``I want to go to junior college. I want to go to Toita.'' There, I saw the students of Toita Women's Junior College working with more energy than I could have imagined, and I was surprised that there is such a vibrant junior college.
 Parents see their children, high school teachers see their students, and they are what they will look like one year or two years from now.When students visit teachers from their alma mater, many teachers are surprised at how much their students have grown.Now, the effects have spread not only to my team, but also to other students. "
 We will use the open campus management know-how cultivated through ``Team Toitan'' to assist in open school training at high schools that are struggling to recruit students.This is a new form of collaboration with high schools in Toita Women's Junior College's greatest weapon, ``student development.''Implementation has already been decided at several schools.
A variety of content improves your employment skills and helps you quickly become active in society
 Toita Women's Junior College also has a high employment rate of 99% (2023).Job opportunities include popular companies such as major food manufacturers, IT, airlines, and hotels.In addition to participating in corporate collaborations, school festivals, and club activities, students gain confidence through their presentation skills honed in class, and are able to find employment at their desired companies.This compares favorably with top four-year universities.
 ``Of course, we can do this because of our size, but I believe that the role of university public relations is to create a place where students can play an active role, and to create a mechanism to properly select and communicate that information.
 Simply making a pamphlet look better on the surface or publishing an article will not have lasting effects.Students who participate in the event imagine the experience before enrolling, enjoy the field and growth, and get a bird's-eye view, which leads to public relations.In that case, the story will flow naturally and smoothly without PR having to deal with each part individually.Then, as public relations professionals, we will be able to take on the challenge of new media and marketing methods."
The key to success is the stage where students dance: Toita Women's Junior College shows the future of women's colleges and junior colleges
 At Toita Women's Junior College, by providing a variety of ``places = stages,'' we help our students hone their various skills, such as communication skills, manners, the ability to take action, and the drive they need as members of society, while at the same time helping them develop new skills. As a junior college, we bring out their potential and send them out into society as in-demand human resources in two years.Of course, it takes a lot of time and effort, as well as a sense of unity among faculty and staff and the same guidelines within the university, to create a culture in which students ``challenge = dance'' on stage.
 Of course, there is still room for improvement at Toita Women's Junior College, and some schools may be unsuitable depending on the size of the school.However, from the perspective of school management, there is no doubt that the success of Toita Women's Junior College is a branding example that is highly suggestive and should be used as a reference amidst the predicament of ``women's colleges'' and ``junior colleges'' mentioned at the beginning.
 Please visit Toita Women's Junior College at least once during an open campus event, school festival, or other event where you can meet students directly. I would like to recommend that you check out the lively movements of female college students with your own eyes.