Updated: July 2023, 7
Chukyo University
Fostering human resources with a wide range of education, deep knowledge, and practical skills who can play an active role in the international community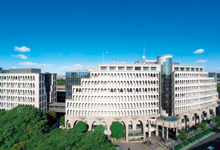 One of the leading comprehensive universities in Japan with 10 faculties and 20 departments.We are promoting the improvement of educational and research capabilities, social cooperation, internationalization, and strengthening of graduate cooperation.We aim to produce lithe intellectuals who can think and act on their own, and to build a further hall of fame for academics and sports, and to produce human resources who have the ability, practical ability, and rich humanity to play an active role in the real world.
List of faculties / departments
Faculty of International Studies
International Studies Capacity 150 students
Department of Language and Culture Capacity 140 people
Department of literature
Department of History and Culture Capacity 70 people
Japanese Literature Department Capacity 68 people
Language Expression Department Capacity 72 people
Faculty of Psychology
Department of Psychology Capacity 175 people
Faculty of Law
Law Department Capacity 320
Faculty of Economics
Department of Economics Capacity 320
Faculty of Business
Department of Business Administration Capacity 325 people
Faculty of Policy Management
Comprehensive Policy Department Capacity 220
Faculty of Contemporary Sociology
Department of Contemporary Sociology Capacity 265 people
Faculty of Engineering
Department of Mechanical Systems Engineering Capacity 86 people
Department of Electrical and Electronic Engineering Capacity 86 people
Department of Computer Science Capacity 86 people
Media Engineering Department Capacity 62 people
Faculty of Sports Science
Sports Management Department Capacity 80 people
Department of Sports and Health Science Capacity 110 people
Trainer Department Capacity 80 people
Sports Education Department Capacity 160 people
Department of Competitive Sports Science Capacity 310 people
Contact information, address, etc.
Zip Code
466-8666
Address
101-2 Yagotohonmachi, Showa-ku, Nagoya-shi, Aichi
Department
Entrance Examination Center
Phone number
052-835-7170
Scholarship information
Scholarship name
Eligible persons
of people
Salary / loan
Scholarship for excellent entrance examination results
235 people
[Benefits] Admission fee, tuition fee, education enhancement fee
Umemura Gakuen 100th Anniversary Study Abroad Benefit Scholarship
30 people
[Benefit] 1 million yen will be paid as an expense for studying abroad in one semester or more (once while in school) * Benefit after studying abroad
Umemura Gakuen 100th Anniversary Living Alone Benefit Scholarship
100 people
[Benefits] Spring semester tuition and education enhancement costs (approx. 50 yen)
* This scholarship information is based on the questionnaire that was answered by September 2021, 9.
Others
Official page
https://nc.chukyo-u.ac.jp/