Updated: July 2022, 11
Kanazawa Institute of Technology
Fostering global human resources with the "innovation power" to create things that are useful to people and society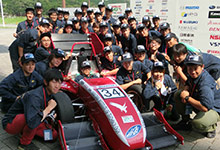 Kanazawa Institute of Technology has 4 departments in 12 faculties: Faculty of Engineering, Faculty of Information Frontier, Faculty of Architecture, and Faculty of Biotechnology and Chemistry, and realizes a wide range of learning fields in collaboration with faculties, graduate schools, and research institutes. An educational program that "work on ambiguous problems as a team, clarify problems to be solved, create and implement solutions under constraints" is implemented throughout the curriculum.By practicing world-class education for each student, we are developing global human resources who have acquired "innovation power."5% of the specialized faculty members are from companies, and it is possible to accurately grasp the technical needs and human resources needs of the industry, build an education and research system that responds to them, and realize education and research through joint and co-creation. I am aiming.
List of faculties / departments
Faculty of Engineering
Department of Mechanical Engineering Capacity 200 people
Department of Aviation Systems Engineering Capacity 60 people
Robotics Department Capacity 100 people
Department of Electrical and Electronic Engineering Capacity 220 people
Department of Computer Science Capacity 200 people
Department of Environmental Civil Engineering Capacity 100 people
Information Frontier Faculty
Media Information Department Capacity 120 people
Department of Management Information Capacity 60 people
Department of Psychology Capacity 60 people
Faculty of Architecture
Department of Architecture Capacity 200 people
Bio/Chemical Department
Department of Applied Chemistry Capacity 80 people
Department of Applied Biotechnology Capacity 80 people
Contact information, address, etc.
Zip Code
921-8501
Address
7-1 Ogigaoka, Nonoichi City, Ishikawa Prefecture
Department Name
Entrance Examination Center
Phone Number
076-248-0365
Scholarship information
Scholarship name
Subject
of people
Salary / loan
Special Scholarship Program Scholarship Fellow
50 people
[Reduction and exemption] 897,200 yen (2nd year and after: 979,200 yen)
Special scholarship system Scholarship members
65 people
[Reduction] 25 million yen
* This scholarship information is based on the questionnaire that was answered by September 2021, 9.
Others
Official page
#https://www.kanazawa-it.ac.jp/#