Kyoto Tachibana University is based on the Kyoto Women's Handicraft School founded in 1902.After undergoing numerous reforms, it has now become a comprehensive university with 9 faculties and 15 departments in the fields of humanities, science and medicine.Furthermore, the Graduate School of Informatics (provisional name*2024) will be established in 1, and the Department of Digital Media and Robotics will be established in the Faculty of Engineering in 2026, and the Department of Clinical Engineering in the Faculty of Health Sciences (provisional name*2). In the age of AI, we are promoting education centered on informatics so that we can make use of the sensibilities of the digital native generation and take on various challenges.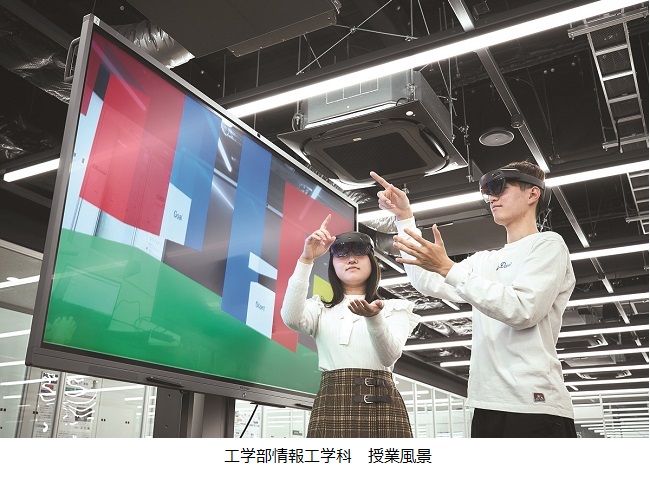 foster creative thinking,
Kyoto Tachibana University's unique policies for the Department of Information Engineering
"We want to develop human resources who will play a key role in Japan's information technology, not just some top researchers, but leaders of the 4th industrial revolution, such as AI, big data, and IoT. I have that feeling."
In April 2021, Kyoto Tachibana University established two departments, the Department of Information Engineering and the Department of Architectural Design, to strengthen informatics.Professor Higashino, who teaches at the Information Engineering Department, says:
AI (artificial intelligence) such as ChatGPT is becoming more familiar as well as IT technology, and there is an urgent need to develop advanced IT human resources in society.Therefore, in the Department of Information Engineering at the same university, the curriculum is structured around the standard content advocated by academic societies in the field of information science. By the second year, students will learn essential knowledge and skills for building a foundation such as programming, information security, computer systems, and the basics of information mathematics networks.It is noteworthy that ELSI (Ethical, Legal and Social issues) and literacy education are also provided. New technologies such as ChatGPT enrich society, but they can also lead to trouble if used incorrectly.
"No matter how much AI develops, it is people who ask questions. It is important to use AI as a tool and acquire the ability and knowledge to expand your creative ideas."
"Comprehensive knowledge" that cuts across humanities and sciences
Diverse projects to develop curiosity
From the 3rd year onwards, we have prepared 5 courses: software design, network design, IoT system, media design, and data science, so that students can increase their expertise according to their own interests.However, in the information field, which changes rapidly, it is assumed that the technologies and interests of interest will change within a year, so the system allows students to flexibly select courses.Furthermore, for students who have a clear desire, as well as students who are unsure of their options, the faculty member in charge will support them in choosing a course based on their interests and future.
In terms of cross-departmental aspects, I would like to pay attention to "project management" and "crossover problem solving projects" in industry-academia collaboration with the Faculty of Economics and Business Administration.
"This is a project-based learning (PBL) course in which students from three faculties discuss issues and think about solutions. It is a great way to confront engineering students, who tend to try to solve problems with technical skills, from a social and economic perspective. Having a large number of economics and business administration students working together makes for a three-dimensional discussion.Because of the cooperation of companies, the content of the assignments is also very practical."
In the second year, lecturers are invited from companies to learn how informatics is being used in the real world, along with case studies.The contents are wide-ranging, such as an introduction of a sports player support project using IT by an electronics manufacturer and a young engineer talking frankly about his work.
"Half of each class (1 minutes) is devoted to asking questions and discussing with the instructor. To build complex systems that solve social issues, there are a variety of fields, such as medical care, nursing care, construction, civil engineering, finance, and administration. It is necessary to have the ability to widely manage the introduced digital technology.Expand the world through free exchange of opinions and acquire the basics of management.I think it is a training place for that."