Kansai University is strengthening career education using the online learning support system "Kansai University LMS." The ``Career Formation Subject Group,'' which began in April 23, expands the life options of each student by cooperating with existing specialized education starting in the first year.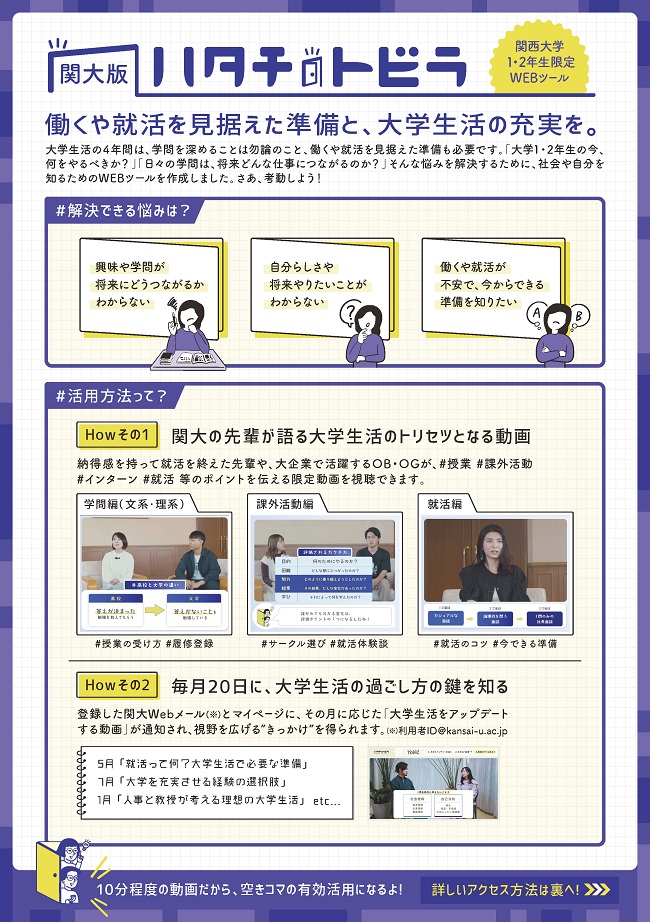 "Kandai Edition Hatachi no Tobira" is packed with content useful for job hunting and career development, including videos of seniors who are active in society.
Newly established "Career Formation Subjects" to connect university learning to the future
As work styles and lifestyles become more diverse, many university students are expected to shape their own careers, but many university students are worried about their future careers.In light of this situation, starting this year, Kansai University has established a new ``Career Formation Subject Group'' as a common liberal arts subject for the entire university. This is an attempt to connect students' desired future jobs with their university studies by specializing in career development as part of their general education classes starting in their first and second years.
The new career development classes will be divided into three main categories. ① Learn the basics and theory: ``Career formation starting from university students'' ``Career formation to survive in modern society'' ② ``Introductory career formation exercise'' and ``Career formation practical exercise'' to acquire problem-solving practical skills ③ Theory It is a ``career formation that explores from theory and practice'' that fosters the thinking ability that connects theory and practice.
Students from all faculties can take this course as a general education subject, and engage in practical problem-solving through active learning.Interfaculty interaction is also encouraged through pair work and group work, and students learn the basics of team-building skills that will be useful in their university and social life afterward, and foster the ``ability to think'' that is also Kansai University's policy.Professor Tadakatsu Okada, vice president and faculty of human health at Kansai University, said, ``It is important to foster proper career thinking from an early stage so that there is no discrepancy between students' desired careers and what they learn in their undergraduate studies. Your motivation will increase and you will be able to chart a clearer path to your future."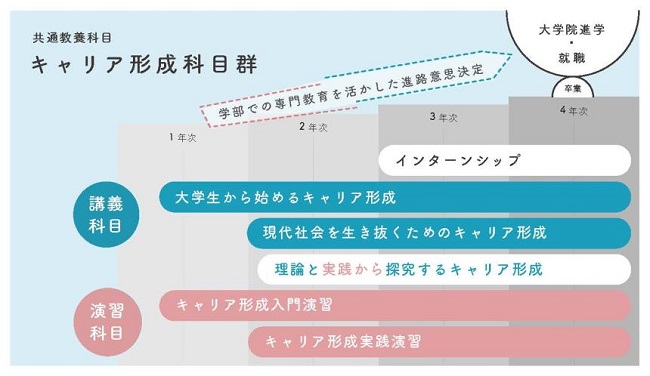 Image of four years of career education centered on "career formation subjects"
Promoting career education through further utilization of Kansai University LMS
Kansai University provides student support through various systems.The Kansai University LMS (Learning Management System), a learning support system, has been working on making it online in order to create a free learning environment.Its uses are wide-ranging, such as screen aggregation during online learning by linking with video distribution software, automatic captioning of explanations, comprehensive management of course grades, etc., and streamlining access to various media and information collection and sharing. .
Furthermore, this time, we will utilize LMS, which can accumulate effective learning data, for "career education."We will centralize the data accumulated by departments such as faculties, graduate schools, and career centers from the time of admission, and will lead to career development that is optimized for each student.
Professor Okada says, ``Rather than suddenly starting job hunting from the third year onwards, I believe it is important to deepen your learning with an eye on your life 3 or 10 years from the time you enroll.Introducing and maintaining an LMS. "This has made it possible for us to implement more fulfilling career education from an early stage."
The number of students thinking about the future increases from their first and second years
"By watching and listening to videos of seniors who are active on the front lines of society, the number of students who are interested in their future career paths and the academic fields necessary for that purpose has increased from an early stage. '', Professor Okada says of the results. Utilizing LMS, we will open a career support web tool "Kandai version Hatachi no Tobira" exclusively for first and second year students in 1.In addition to viewing job-hunting information from seniors, teachers, and company recruiters, as well as videos that cover the daily lives of working adults, participants can also input their own interests into worksheets to deepen their self-understanding, and interact with other participants. It is full of content that expands students' future options, including a function to share their learning.
Furthermore, as a pioneering initiative starting this year, we have released a video of the ``Industry-Academia Collaborative Job Shadowing Program,'' in which students closely experience the day-to-day work of working adults.In the first event, with the full cooperation of the Panasonic Group, students closely followed and experienced the work of three employees in human resources, sales, and technology.By watching this video, students looking for internships or pre-job hunting can easily imagine working in society.
``Kansai University Edition Hatachi no Tobira'' not only disseminates career information tailored to the interests of individual students, but also ``What should first- and second-year university students do now?'' ``What should their daily studies be in the future?'' We provide detailed support to students who are worried about future career development and job hunting preparations.
In addition, the university's unique career support system "KICSS" has a "dedicated career support portfolio," where students can record and store their own reports, exams, and results of various activities. This makes it useful for self-analysis and determining suitability during job hunting.
Professor Okada says that his future plan is to follow the careers of graduates five or 5 years from now and accumulate that data, which he hopes will be used to guide younger students aiming to pursue the same path.
``I want all of you who are going to enter our university from now on to study at the university with hope and without putting limits on your potential.At our university, we provide a variety of career education opportunities starting from the first year. "I believe that by deepening your thoughts about your career, you will be able to enrich your learning in specialized education and expand your life options."
Kansai University Vice President/Faculty of Human Health
Professor Tadakatsu Okada