In April 2024, Kansai University of Foreign Studies will open the Department of International Japanese Studies in the Faculty of Foreign Studies and the Department of Future Career English in the Junior College. Following April 4, "Faculty of International Symbiosis" and "Faculty of Foreign Languages, Department of English and Digital Communication" will further accelerate the development of international human resources who can respond to an unpredictable era.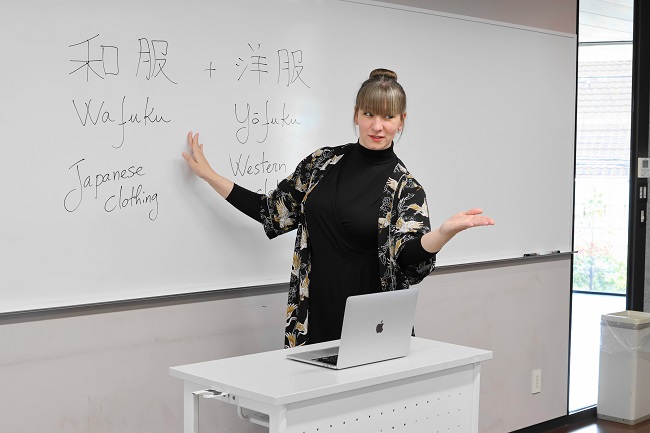 Human resources needed in Japan and overseas to "connect the world and Japan"
The COVID-2022 situation has calmed down to a certain extent, and society is returning to its previous normal.The flow of people, which had decreased or stagnated due to the corona crisis, has increased, and in various places such as companies and local communities, interaction with foreigners has come to be seen as a daily scene again.The number of foreign residents in Japan is also increasing year by year, reaching a record high of approximately 6 million in June 296 (according to the Immigration Services Agency's "Foreign Resident Statistics").Along with changes in social conditions, the importance of mutual understanding of each other's backbone, such as culture and history, is increasing, as well as language learning when communicating with foreigners.
"International communication is not limited to global corporations, but it is spread all over Japan, from general corporations to public institutions. Securing human resources who 'connect Japan and the world' is becoming an urgent issue," he says. is Professor Shigenori Kakinoki, who is scheduled to become the head of the Department of International Japanese Studies.
"In Japan, it is not possible to communicate smoothly with all of the rapidly increasing number of foreign workers. Not to mention the language barrier, in order to live with your family in Japan, you have to overcome problems such as children going to school. There are many hurdles that must be overcome.As a result of discussing what we can do to move forward one by one, we decided to open the Department of International Japanese Studies. I would like to develop human resources who can teach Japanese culture, and can act as a bridge between Japanese society and foreigners.In addition, from traditional culture such as Noh and Kyogen to anime, manga, and fashion. One of the objectives of the department is to deepen the knowledge of Japanese culture, including pop culture such as
Develop high proficiency in English and Japanese
A flexible curriculum for your desired career
In the Department of Global Japanese Studies, we will improve the ability of Japanese and English through our unique approach.Regarding English, the curriculum content is equivalent to that of the Department of English and American Studies in the Faculty of Foreign Studies (44 of the 40 required specialized subjects are English-related subjects), and students acquire advanced and practical English proficiency.In the same way, it is possible to hone your expertise in the Japanese language and aim to become a Japanese language teacher.
The curriculum is not a course system, but rather a "group" of specialized electives, with a high degree of freedom so that you can change even after taking the course. to be able to take specialized subjects.
Courses scheduled to be offered include "Special Lectures on Phonetics," which will be given by an active announcer (planned), "Education for Foreign Children in Japan," which is related to Japanese language education, and "Traditions of Japan in English from Native Teachers." There are many interesting things such as learning about culture.
Learn Japan and go to the world
Extensive support to support study abroad
In the Department of International Japanese Studies, we will also enhance the system to support the motivation of students to learn.The "Global Liaison Study Abroad" (provisional name), which is being envisioned as a unique study abroad program, is based on a "liberal arts study abroad" where students study a specialized field in the same class as local students for one year. It also includes content to deepen your knowledge of culture and history, and to introduce and disseminate at your study abroad destination.In addition, we plan to promote Japanese language education and support activities for Japanese language learners.
Regarding the cost aspect, which is a concern, we will be eligible for the "Full Scholarship", a scholarship for studying abroad, and all students who meet the conditions will be exempted and paid for tuition, housing, and food expenses at the host university. . "I hope that students will make use of the extensive system to realize their dreams of studying abroad and spread the charm of Japan to the world while they are still in school," says Professor Kakinoki.