Kyoto Sangyo University is a "single-centre comprehensive university" with 10 faculties and 18 departments in the humanities and sciences, and about 1 students studying on one campus.Taking advantage of this advantage, we are focusing on ``cultivating human resources who will play a leading role in the future society,'' with strengths in programs that allow students to study in a wide range of academic fields, such as humanities, social sciences, and natural sciences, across the boundaries of their faculties.It is also known as a university that is strong in finding employment, and offers a variety of programs so that each student can find a job in their own way.We asked Professor Nishimura, Director of the Career and Employment Support Center, and Section Manager Yoshii about the aims of the support program.
Interaction with students and seniors in various fields is an asset
Deepen personal growth and career awareness
 "One of the characteristics of our university is that it is a 'single-centre comprehensive university' where students from all faculties study on one campus. You can expect personal growth through exchanges.The range of exchanges is not limited to students in the same grade, but also includes seniors and juniors, and has a positive impact on students' career choices and job hunting," says Professor Nishimura.
 At Kyoto Sangyo University, as one of the job-hunting support programs, fourth-year students who have decided on a career path are provided with opportunities to interact in the form of "student job-hunting advisors" who consult with juniors.It is said that by interacting with students with various values, they can broaden their horizons when choosing a career path and deepen their own axis when working.In addition, the job-hunting advice based on real-life experience is very useful in alleviating the anxieties and doubts of students who are about to start full-scale job-hunting activities.
 Student employment advisors do more than just provide individual counseling.Around February every year, an event called "Job Hunting Festival" is planned and held mainly by student employment advisors. At the "Job Hunting Festival", we invite OBs and OGs up to 2 years after graduation to hold mock interviews and lectures on how to prepare application documents.Participating students can visit booths by industry and hear directly from seniors who are active as young employees about the industry, company, and work.About 5 third-year students participated in the "2023 21st Job Hunting Festival", which was held face-to-face for the first time in a long time, even though it was a public holiday.I could see them listening intently. It seems that the 650th year students have grown further by managing large-scale events.
 This kind of career support that is passed on from seniors to juniors can be said to be one of the secrets behind Kyoto Sangyo University, which is strong in finding employment.

Covers all the themes necessary for job hunting
Detailed support for 1300 annual events and interviews
 The Career and Employment Support Center also provides generous support. About 1 on-campus job-hunting support events are held each year.Mr. Yoshii explains the background behind this number of training sessions.
 "There are students who start job hunting early, students who do not start until the last minute, and students who do not know where to start. We are designing the entire support event for
 For example, students who wish to participate in an internship during the summer vacation of their third year will start in April, students who will be involved in volunteer work or study abroad during the summer vacation will start in September, and students who will concentrate on classes, seminars, or club activities during the year will start the new year. Since then, there is a tendency to start job hunting.
 "This year, however, we started a little earlier and held the pre-guidance in February of the second year. Previously, we held the first employment guidance in April of the third year, but recently, companies We thought it was necessary to take action as soon as possible because the recruitment activities tend to be earlier.It was a great success."
 The lineup of support events is wide-ranging, including basic courses to learn how to proceed with job hunting and internships, courses on how to write application documents and prepare for interviews, industry-specific seminars, seminars on civil servants, and individual counseling sessions for UIJ turn employment.Recently, the number of companies requesting submission of self-introduction videos has increased, so we have added courses on how to use shooting equipment and video editing.
 The annual schedule of these support events is distributed to students, and students who have started job hunting as well as students who are about to start can learn about what other students are working on and what they can do in the future. It helps me think about what I have to do.
 "On the other hand, what I would like to emphasize is that rather than focusing on know-how courses such as interview preparation, our center will work with university libraries to learn how to collect information for industry and company research and how to interpret financial statements. It means that we are putting effort into the course." (Manager Yoshii)
"A job offer is not the goal, but what is important is the future. If you choose a place of employment without a sufficient understanding of the industry or company, you may end up with a mismatch. How did the industry or company develop? I would like people to pay more attention to information that cannot be obtained from job hunting websites alone, such as how they are responding to future changes in society." (Professor Nishimura)
 Of course, we also focus on individual consultations.About 50 staff members, including those in charge of career education, are involved in career and employment support.
 "It is natural that each person's job search is different. At our university, we encourage students to grow through classes so that they can think and act on their own, and many students complete their activities on their own. While valuing dialogue with students who lack confidence in their job-hunting activities, I will tenaciously support all students so that they can step forward as members of society."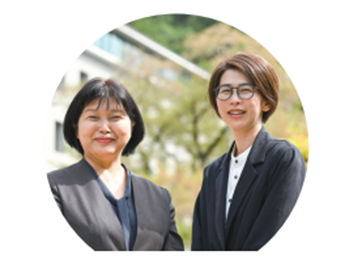 Kyoto Sangyo University Career and Employment Support Center
Professor Yoshiko Nishimura (left) and Tomoe Yoshii (right), Director of the Center and Faculty of Economics