As a comprehensive university with 6 faculties and 8 departments, Meikai University is committed to "cultivating promising human resources who can acquire sociability, creativity, and rationality, and who can play an active role in the international future society." Because of its roots, which opened as Josai Dental University in 1970, many people still think of Meikai University as the Faculty of Dentistry.The campus in Sakado City, Saitama Prefecture, where the School of Dentistry is located, has an affiliated hospital, and operates PDI dental clinics in Saitama, Tokyo, and Urayasu. .We asked Shin Ki-joo, Dean of the Faculty of Dentistry, about the educational goals of the Faculty of Dentistry.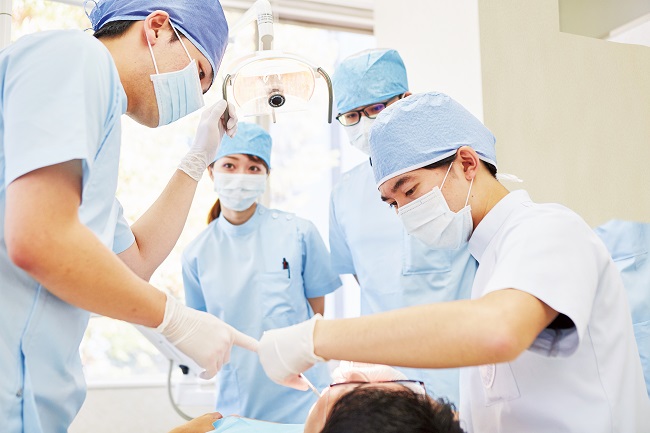 Don't give up on your dream of becoming a dentist
Lowest tuition fees among private dental schools in Japan
"At our school, we aim to train dentists who are particularly good at clinical practice. Therefore, we not only acquire dental knowledge and skills, but also acquire humanity as a dentist, computer literacy, language skills, etc., and change. We have a curriculum that trains 'new-age dentists' who can respond to social conditions that continue to be unavoidable," said Dean Shin.
While showing confidence in the quality of the educational content, he reveals his thoughts on prospective students, saying, "In order to meet the dreams of people who want to become a dentist, I am trying to keep tuition as low as possible."
The school of dentistry has an image of being expensive, like the school of medicine and pharmacy, but Meikai University sets the total tuition for 6 years at 1888 million yen, which is the lowest amount among private dental colleges in Japan (nationwide). The average tuition fee for 6 years at a private university dental school is 2757 million yen / students enrolled in 2022).
"I would like not only the children of doctors and dentists, but also a wide range of people to take on the challenge. Before giving up on financial reasons, I would like you to consider our university," he said.
Nurture the basics as a medical professional through small-group education
Develop diverse skills through overseas training at 5 universities in 9 countries
Looking at the actual learning, we can see that in many subjects, detailed guidance is thoroughly provided in small classes based on the three keywords of "broad perspective," "rich sensibility," and "internationality."
In the basic education of the first and second years, we have set up many "subjects to develop sensibility" so that we can practice from the patient's point of view.In addition, in the small-group "Basic Dentistry Seminar" for all first-year students, students will learn the English necessary for dental treatment while engaging in group discussions and presentations. Part of the specialized subjects in the 1rd year and practical training in hospitals in the 2th year are also conducted in small groups of 1 or less.
What is unique is the educational system called verticaltear, in which 1st, 3rd, and 5th graders study together, and it is said that it is common to see 5th graders teaching lower grades.
In addition, the "Academic Advisor System" is popular among 5th and 6th grade students who are approaching the national exam for dentists and graduation, where one young teacher for up to 10 students provides guidance on both academics and life.
In addition, in order to acquire a global perspective and learn about the latest dental affairs, overseas training is conducted mainly for fifth-year students with excellent grades.All expenses such as tuition fees, travel expenses, and accommodation expenses are borne by the university, so you can concentrate on your training without worrying about money.Students who pass the internal screening will visit the University of California, Los Angeles (UCLA), Peking University Oral College, etc., and study with local students for around 5 week to 10 days.Since this program is an exchange training, it is also characterized by mutual exchanges in which the student who played the role of host in the field comes to Japan at a later date to study at the School of Dentistry, Meikai University.
"Overseas training is a popular program, with one in four fifth-year students taking part. The United States and China have advanced dental technology and are among the best in the world. has become a valuable place for exchange."
It is said that some students have decided to study abroad for a long period of time after being stimulated by deep friendships that develop together in research across national borders and increasing their motivation for research.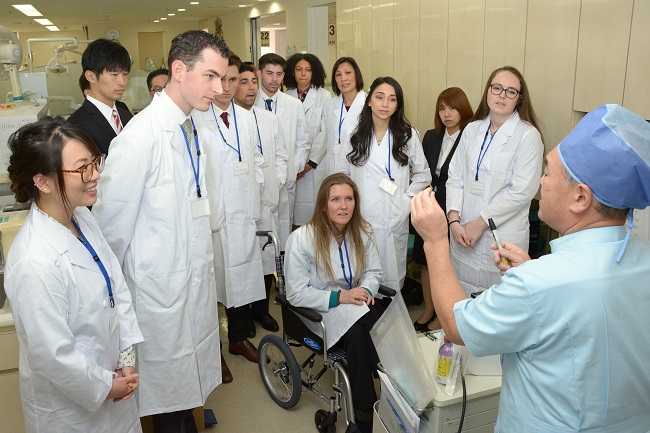 Average national exam pass rate is over 80%
Full system to continue learning after graduation
The results of the six-year rich curriculum are also reflected in the national examination pass rate. The pass rate for the 6th Dentist National Examination (new graduates) in January 2023 is 1%.The average pass rate for the past 116 years (years of study) exceeds 77.9%, exceeding the average pass rate for all private dental schools.However, Dr. Shen is not satisfied with the current situation and has set a target of 6% or higher.On top of that, he says that he wants each student to continue to have a desire to improve even after passing the national exam.
"In the future, dentists will have to do more and more. As the birthrate declines and the population ages, QOL (Quality Of Life) is attracting attention. By continuing to learn, I want to improve my diagnosis and treatment skills, and become a dentist who can contribute to patients."
These words have been made into a number of systems that allow students to continue learning even after graduation.The postgraduate training institution PDI and lifelong training CE are the first attempts in Japan, and even non-Meikai University graduates can take them.I will introduce the details below, but I would like you to check the generous learning support.
〇Graduate school entrance support
For those who aim to become dentists, university teachers, and researchers with more advanced skills.The financial support is generous, and all Meikai University graduates are exempt from the examination fee.Students with excellent grades while enrolled in the undergraduate program are exempted from admission fees and tuition fees for four years (an annual training fee of about 4 yen is required).
〇 Post-graduate training institution (PDI: Post Doctoral Institute)
The statutory training required after passing the national exam is one year, but PDI provides more practical training over two years.In addition to the clinical training required by law, ethics training and clinic management know-how can also be learned, so many people attend as a shortcut to opening a business.Installed in Saitama, Tokyo, and Urayasu
〇 Lifelong training CE (Continuing Dental Education)
Established in 1999 for those working as dentists and dental hygienists to learn the latest knowledge and techniques.About 60 courses are held annually, mainly on Saturdays and Sundays.After taking the designated course and passing the examination, the title of Excellent Clinician, Distinguished Clinician, and Master Clinician will be awarded.
Meikai University School of Dentistry Dean
Professor Kijo Shin