In 2017, Shiga University established Japan's first data science faculty.Data science is an essential field of study for extracting "value" from huge amounts of data.Since its establishment, it has produced graduates who are active in all business and academic fields through a curriculum that integrates humanities and sciences and PBL (Project Based Learning) conducted in collaboration with companies.It continues to show its presence as a pioneer of data science education schools in Japan.We asked Professor Hiroshi Shiina, the dean of the faculty, about the history of the establishment of the faculty, the characteristics of learning, and the career paths of graduates.
The pillars of learning are "Informatics" and "Statistics".
Faculty members from a wide range of fields and many students from the humanities
"The two pillars of data science are 'information science' and 'statistics.' Both of these fields have a long history, but before that, there were no faculties in Japan that offered degrees in 'statistics.' However, Professor Takamitsu Sawa, then president of the university, saw the potential of 'statistics' and was looking to open a new faculty. The establishment of the Faculty of Data Science was realized."
Data science is an academic discipline that draws out "new value" from the data that floods society. In today's modern age where ICT (information and communication technology) has evolved, advanced data processing and data analysis capabilities are required in all areas of business, medical care, education, the environment, and disaster countermeasures.
Therefore, when establishing the faculty, we aimed to create a "humanities and sciences fusion type" faculty organization that is not biased toward the sciences and humanities, and gathered faculty members from a wide range of fields, including faculty members who had studied informatics and statistics in the science, engineering, and economics faculties, as well as faculty members in the fields of medicine and sociology, and personnel with extensive practical experience in companies and public institutions.
The curriculum consists of (XNUMX) data engineering (information-related) subjects, (XNUMX) data analysis (statistics) subjects, and (XNUMX) value creation subjects (introduction of examples of value creation in various fields such as value creation practice, economics, management subjects, etc.) in a well-balanced manner.
A certain level of mathematics knowledge and way of thinking is required to study specialized subjects, but I want students who are not good at mathematics to feel at ease. There is generous support in subjects such as "analysis" and "statistical mathematics", and the study room provides an environment where even liberal arts students can easily learn, such as receiving advice from graduate students.Also, with the emergence of ChatGPT, programming has now become an era of learning while using AI.
"From now on, what will become important is the ability to understand the essence and benefits of data and use it as a tool. Analyzing data is not the end, but discovering value from data. Being able to come up with ideas that lead to happiness and make decisions, especially in the value creation stage, where humanistic thinking will be very useful."Every year, XNUMX-XNUMX% of the students enrolled in this department come from liberal arts backgrounds.Dean Shiina encourages students by saying, "If you are interested in this field, please take on the challenge."
Learn practically in corporate collaboration PBL, and after graduation,
For data scientists and general workers who make full use of data
PBL-style learning is practiced in practical subjects.Shiga University collaborates with more than 100 companies and local governments, including Toyota Motor Corporation, Aioi Nissay Dowa Insurance, and Teikoku Databank.Based on the raw data provided, he performs data processing and analysis, working to solve problems faced by companies and local governments, and refines his practical sense.
"The challenges range from marketing analysis, such as the effects of coupon distribution on stores, to medical analysis using receipt data. There are cases in which people from companies act as lecturers, and it is a great stimulus for students to hear the voices of people on the front lines.
There are two main paths to this learning. They are "professional data scientists" and "career workers who make full use of data."He is active in a wide range of fields, including information and communications, manufacturing, finance, logistics, and construction.While 15 to 20 students go on to graduate school each year, there are also students who start their own businesses.
"Our university has a 'Shiga University Venture Certification System' that supports students in starting a business, and we can receive various support such as facility rental from the university and intermediation with companies. A student who started a venture company that solves the problems of local SMEs through DX support has been certified and is currently active at the university.
As a pioneer in data science education
Providing a Wide Range of Textbooks and Online Courses
In 2017, Shiga University was selected by the Ministry of Education, Culture, Sports, Science and Technology as one of the six base schools for promoting education related to mathematics and data science.It also has a reputation for producing a large number of teaching materials and contents for university students and researchers to spread learning.
President Shiina says confidently, "Textbooks written by our faculty members that teach systematically and comprehensively about data science are commercially available to the general public and have been adopted by other universities and private companies."
In addition, MOOC (Massive Open Online Courses: Mook), an online course service that anyone can watch, delivers lectures by faculty members of the Faculty of Data Science at Shiga University. From June 2023th to September 6th, 16, "Introduction to Data Science for High School Students" will be released free of charge.It is also recommended to try a simulated experience of the lecture through the distribution.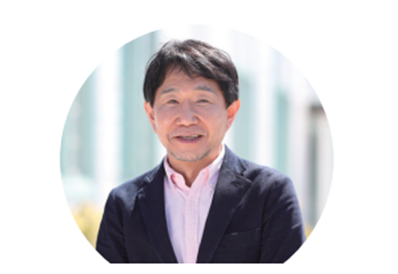 Dean, Faculty of Data Science, Shiga University
Professor Hiroshi Shiina