Nov. 2022, 10
What is Tokyo City University OPEN MISSION?
 The keyword for learning, "inquiry," is changing university entrance examinations and high school-university connection programs.Tokyo City University has introduced a new entrance examination that evaluates the results of inquiry activities in the comprehensive selection, and has newly established a test question called "inquiry general question" that tests the ability to inquire across multiple subjects in the general selection.In addition to the conventional "Open Campus" event for high school students, we have also implemented an inquiry learning program "Open Mission" from this year.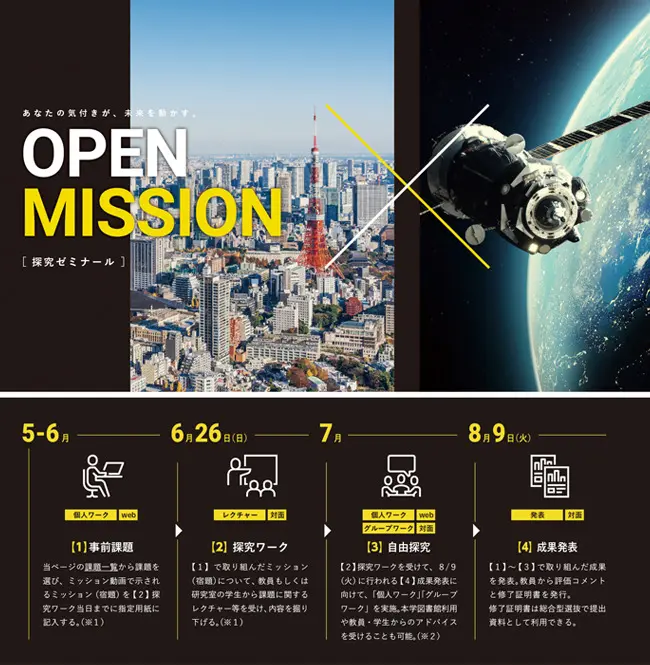 "Open Campus" is a festival-type event that provides a tour of university facilities and equipment and provides specific explanations of educational and research content. requires a period of months.
 Participants select and register a theme of interest from the research themes presented on the university website (the number of participants is limited for each theme).Based on the mission (issue) video, bring your own report, etc., to June 6 (Sun).It was a valuable opportunity to receive direct guidance from a university professor, but the advice from the university acting as an assistant seemed to play a role in relieving the tension of the participants, partly because they were close in age.
 And this program doesn't end in one day.Based on the lectures given by the instructors, they delved deeper into the content, gathered again on the campus on August 1 (Tuesday), and announced the final results.During this period, the participants freely used the university library, received appropriate advice from the faculty members in charge, and exchanged opinions with each other depending on the theme.Tokyo City University planned this "open mission" with the intention of quickly catching trends in high school "inquiry" learning and organically linking it with university education and research.Another purpose is to support high school research activities.
 This year, the publicity period was short, and about 389 people took part in a total of 200 acceptance slots.This year's program has ended, but there are many inquiries from high schools that they would like to formally collaborate as research activities, and we plan to further expand the program next year.