2023/9/11
[Visit the university that introduced the Visional Campus]
Nagasaki University becomes the first national university to introduce BizReach Campus after using it for individual departments
At Nagasaki University, where approximately 9,000 undergraduate and graduate students study, career education is a compulsory subject for students in all departments from their first year, so that students can independently think about their career and lifestyle after graduation. , and provided opportunities for social experience.However, we felt that there was a need for improvement in the provision of OB/OG information, and the ``geographical information gap and opportunity gap'' due to local national universities was an issue.Under these circumstances, the Faculty of Multicultural Sociology introduced BizReach Campus in May 2023, ahead of the entire university.In September of the same year, we became the first national university to introduce ``BizReach Campus'' to all faculties as an official OB/OG visiting service.We spoke with Vice President Tetsushi Inoue, Director of the Career Center, and Associate Professor Akiko Shirai of the Faculty of Multicultural Sociology about the background and effects of its introduction.
Expanding the content of career support with the aim of "developing the career ability to carve out one's own life"
 Nagasaki University opened a "Career Center" in 2019 to strengthen career development support for first-year students. With the philosophy of ``developing career skills to carve out your own path in life,'' we provide support centered on ``career education,'' ``career counseling,'' ``employment support programs,'' ``social experience programs,'' and ``information provision.'' I am doing it.
 Among these types of support, we place particular emphasis on ``social experience programs'' and ``career counseling.'' ``The social experience program provides multiple types of support, including volunteer support and fostering entrepreneurship.For example, volunteer support is provided by a school matching program at Yatte Myu, and volunteers who receive volunteer insurance. "We are sending them off first," says Vice President Tetsushi Inoue, director of the career center.
 Social experience programs are extremely important in achieving the Career Center's philosophy of ``developing career skills that allow students to carve their own paths in life.'' ``I believe that the experience of working with various organizations and people outside of campus will develop the basic skills of working adults and become the ``foundation'' for building a lifelong career,'' Vice President Inoue said.
 Additionally, it is said that there are approximately 2,000 career consultations per year. ``In response to high demand, in addition to the conventional 50-minute consultation slot that requires advance reservations, we have also created a new 30-minute quick consultation that can be booked on the same day.'' (Vice President Inoue)
 During career counseling, counselors have the opportunity to hear from students individually, but it goes without saying that the students themselves are the main actors in their career development.All of the support provided by the Career Center is for the purpose of ``students independently building their careers.''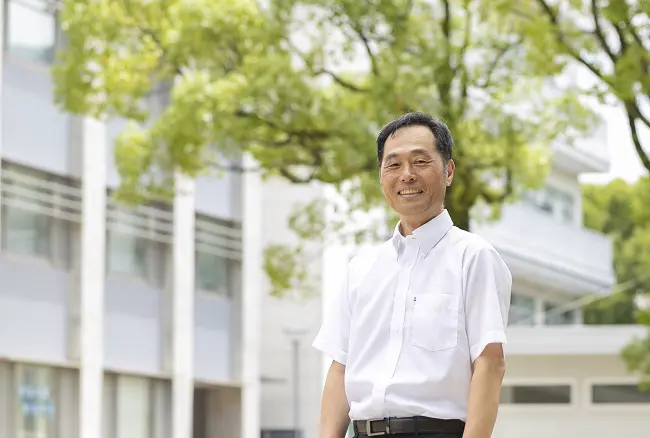 Vice President Tetsuji Inoue serves as the director of the career center.He strives to help students develop their careers independently.
Introduction of BizReach Campus helps correct the "geographical information gap and opportunity gap" at local national universities
 Nagasaki University is a regional national university with a campus in Nagasaki City, Nagasaki Prefecture, and many of its students are from Kyushu.However, some faculties attract students from all over the country, and the employment opportunities for graduates are expanding not only throughout Japan but also overseas.
 "Up until now, we have been providing OB/OG information in response to students' requests, but due to changes in jobs and addresses, it has been difficult to keep track of the latest information, and an increasing number of graduates have lost contact with us. Even though our university provided alumni information to students, there was the issue of geographically difficult visits because their workplaces were located in the Tokyo metropolitan area.'' (Vice President Inoue)
 If you want to go from Nagasaki to meet an alumnus working at a company in the Tokyo metropolitan area, you will have to pay for transportation and accommodation, making it difficult to do so from a time and cost standpoint.There is a geographical disparity in information and opportunities compared to students in urban areas, and Vice President Inoue wanted to somehow rectify this disparity.
 In addition, because it was not possible to keep track of the latest information on alumni, there were an increasing number of cases in which alumni were contacted through faculty members in each department, increasing the burden on faculty.
 Under these circumstances, the university's Department of Multicultural Sociology was the first university to introduce BizReach Campus. "We introduced BizReach Campus in the Faculty of Multicultural Sociology, where Associate Professor Akiko Shirai teaches, and after considering it at the Career Center, we decided to officially introduce it university-wide from September 2023." (Deputy Inoue) President)
 Regarding the benefits of introducing the system, Vice President Inoue says the following. "With BizReach Campus, which allows you to interact with alumni online, we can solve all of our university's geographical issues.It has already been introduced in the Faculty of Multicultural Sociology, so it is reliable in terms of security, including the handling of personal information. The system had been proven to work, so internal approval procedures went smoothly."
 The Career Center has started a "Student Career Supporter" system in 2023, which recruits student supporters for those who have been offered employment and provides support to students from the time they are enrolled in school. "Student Career Supporters register at BizReach Campus upon graduation, and after graduation, they support our students as alumni. I would be happy if we could create connections like this." Vice President Inoue spoke about this.


``We hope that the introduction of BizReach Campus will correct the geographic information disparity and opportunity disparity that have been an issue to date,'' Vice President Inoue said.

 
→The Faculty of Multicultural Sociology strives to develop human resources with a global and broad perspective.