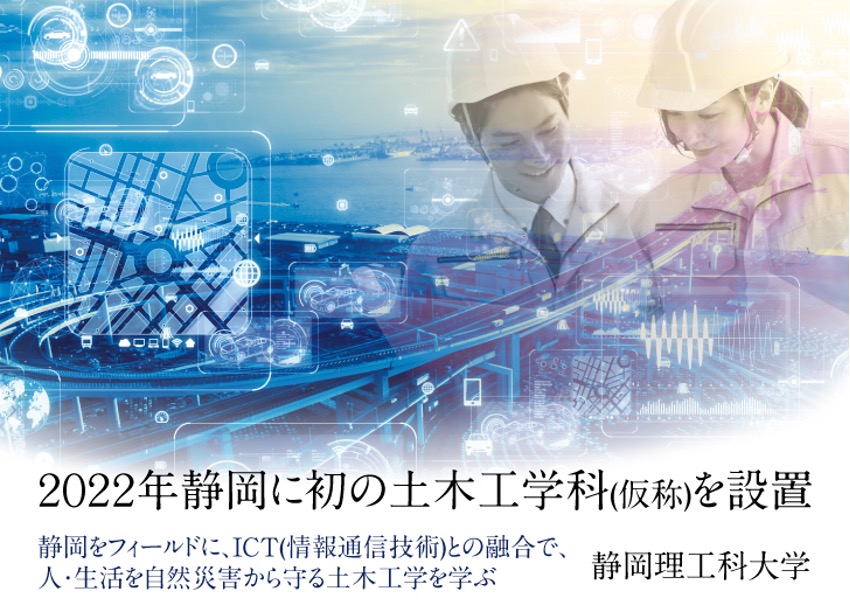 Shizuoka Institute of Science and Technology has continued its own course as the only private science and engineering university in Shizuoka prefecture.
The educational policy is "Research nurtures people."
"Research power" means "self
research
Gisuma learning
Research
As a person
Power
We have produced human resources who can contribute to solving local problems by cultivating specialized skills and human power.
Shizuoka Institute of Science and Technology is planning to establish a civil engineering department (tentative name) in the Faculty of Science and Engineering in 2017, following the opening of the Department of Architecture in 2022. I am aiming.
President Hiroshi Noguchi, who leads the reform, has been working on the fusion of digital, architecture, and civil engineering from early on, such as being led by the computerization of the education and research environment at the University of Tokyo and Chiba University, while specializing in architecture. ..
We asked Professor Noguchi about the background, purpose, and prospects of opening a new department.
A wave of technological innovation in civil engineering due to the digital revolution
What I'm wearing on my collar right now is "Shizuoka Dobo Club" by Shizuoka Prefecture.■It is a batch of. Although it is written as "civil engineering love", it can also be read as "dobo club", and by attaching this batch, it means that you are a member of the team civil engineering who loves civil engineering.
Civil engineering at universities gained popularity in the 30s and 40s, driven by high growth, but lost popularity during the low-growth era, and the name was changed to urban infrastructure.However, in recent years, the environment and conditions have changed due to the deterioration of infrastructure developed during the high-growth period, the Nankai Trough earthquake that is said to occur once every 100 to 150 years, and the heavy rainfall that has never been experienced due to climate change.Even among local high school students, the sense of crisis about a huge earthquake is shared, and there is growing interest in dealing with disaster prevention and mitigation on their own.
On the other hand, the recent digital revolution symbolized by AI, robots, and IoT has also brought about technological innovation in civil engineering.By using drones, it is possible to detect deterioration of structures and damage to railroad tracks in places that are difficult for human eyes to reach, and the development of robots is accelerating for the purpose of responding to labor shortages.In the neighboring city of Hamamatsu, some venture companies have developed a mechanism to remove rust from a remote location with a laser without building a scaffold.In surveying, the development of green lasers that can understand the terrain even if there are trees is in progress.Of course, the method of collecting a huge number of images and analyzing them as big data with AI is also effective in civil engineering.In the civil engineering field, new technologies are being introduced and utilized ahead of other fields.

* "A wide circle (companies) who thinks about the future of civil engineering and the future of Shizuoka together and connects at the site of civil engineering ... Everyone involved in civil engineering in Shizuoka has the consciousness of being a member of the team and is proud of this work. We support you to work with pride. It is an important role to make everyone smile and appeal to the wonderfulness of civil engineering from the dynamic site "(Construction Policy Division, Policy Management Bureau, Transportation Infrastructure Department).
Why is it now in the Department of Civil Engineering?
Against the backdrop of these changes in the times and growing needs, we are planning to establish a civil engineering department in the Faculty of Science and Engineering in 2022.
Outline of concept
■ Department of Installation / Department of Civil Engineering, Faculty of Science and Engineering (tentative name)
■ Opening time / Scheduled to open on April XNUMX, XNUMX
■ Location: XNUMX-XNUMX Toyosawa, Fukuroi City, Shizuoka Prefecture
■ Enrollment capacity / XNUMX people (planned)
* The Department of Civil Engineering (tentative name) of the Faculty of Science and Engineering is preparing for installation with the aim of opening on April 2022, 4.The outline of the faculties and departments is planned, and as a result of future studies, this outline may be changed.
Shizuoka Prefecture, where our university is located, is long from east to west, sandwiched between coastlines and high mountains, and has large rivers, so disaster prevention is a familiar issue.If a large-scale disaster occurs at a key point of east-west transportation, it will affect the whole country.This means that Shizuoka Prefecture is a great field for disaster prevention education, but until now there was no educational institution in the prefecture that could accept and train human resources who want to be involved in disaster prevention and mitigation in the civil engineering field. ..Until now, not only civil engineers but also river observers and port observers had to rely on educational institutions outside the prefecture.As one of our missions has been to accept high school students in the prefecture and produce science and engineering human resources in the prefecture, we thought that it was an urgent task to train human resources and engineers to cover all aspects of civil engineering.
We are planning a straightforward department name of civil engineering because we thought it would be easy to clearly convey the education we were aiming for.Now, learning civil engineering and acquiring skills is not just about preserving historic structures and modern infrastructure.Think about the future of disaster prevention and mitigation, and acquire the optimum technology for that purpose.Alternatively, learn the theory and technology required for planning cities and regions that enhance the quality of life of people symbolized by smart cities, integrating with the natural environment, and developing a social infrastructure that takes into consideration a safe and comfortable living environment. I want you to understand that in advance and enter the school.