Nov. 2022, 1
Aim for the top of 132 teams!Enthusiastic presentation by college students
The 61st Inner Tournament Toyo University Tournament Finals Held, Results Announced!
 On November 11, the final selection of the 14st Inner Tournament Toyo University Tournament was held, which is one of the largest university student presentation presentations in the Kanto region. It is a tournament that decides the top of 61 teams and 132 participating students.
A team centered on seminars at each university, including assignment setting, practice, and effectiveness verification, will be presented by welcoming university faculty members and practitioners as judges.
 The Inner Convention was established in 1960 by the Japan Student Economics Seminar Kanto Subcommittee for the purpose of deepening exchanges with other universities, and is currently continuing its activities as the largest academic presentation in the Kanto region with more than 1000 students participating.
From this year's tournament, the students themselves are in charge of overall management, and both in name and reality, it has become a "student-student tournament for students."
Each team has about 15 minutes for presentations, and less than 10 minutes including 30 minutes for questions and answers, and each team has narrowed down their wisdom on how to convey attractively and accurately to the other party.
 The concept of this 61st tournament is "progress".Due to the Corona sword, the organizer's desire to pursue interests and interests and move forward step by step is included even under various restrictions.This tournament was presented and judged online from the qualifying round.The previous tournament was online in video format, but this year's tournament will be held live, and updates with the Corona sword were also seen.
 The 10 teams that won the qualifying round that started in October and participated in the final round have various theme settings, focusing on issues that are close to them without having to prepare, and it seems that they worked from the perspective unique to university students.
 Judging is based on 1. points of view, 2. logical thinking ability, 3. information utilization ability, 4. presentation ability, and 5. question response ability.The judges are Masakazu Shimada (Bunkyo Gakuin University), Tetsuro Ii (Commons Investment Trust Co., Ltd.), Masako Takeda (Calby Co., Ltd.), Fumiko Takahashi (Linked Japan Co., Ltd.), and Chomi Yamazaki (Accenture). (Co., Ltd.), Akihisa Fukasawa (Practical Women's University) and business people who are active on the front lines meet.

 The highest award, Yokohama City University Shibata Seminar "Pickle," focuses on the social issue of avoiding fish eating, especially among young people.Co-created with a local fresh fish wholesale company, we developed products with a view to branding and reducing food loss of SDGs.The approach that could be called a model based on the basics of marketing was remarkable.The presentation also focused on design and visual effects, and showed a high degree of perfection that can be applied and implemented to other companies as a business model.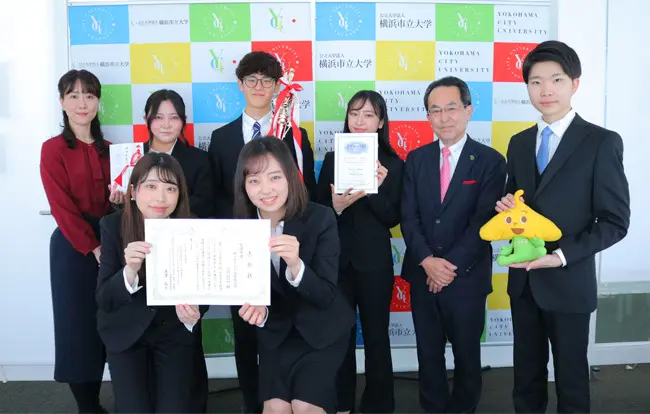 [Photo: Yokohama City University Shibata Seminar]
Award comment:
I am very honored to receive the prestigious award of the highest award even though I participated for the first time.
We would like to express our sincere gratitude to the people of Yokohama Honpo for their great cooperation, Dr. Noriko Shibata and seniors who gave us enthusiastic guidance, and all the people concerned.
We kept in mind logical proposals based on careful research and analysis, and put them into practice through thorough discussions.I feel that the fact that everyone enjoyed their activities led to this award.
We will do our best not to be ashamed of the evaluation we received.
 The Bunkyo Gakuin University Watanabe Seminar "XNUMXth Japanese Team", which received the Excellence Award, worked on the theme of cervical cancer.It should be noted that a seminar was held for men to promote understanding of cervical cancer.We focused on the fact that it is not widely known that both men and women can cause the onset of the disease, although it is a disease peculiar to women.This presentation was just after the news that the active recommendation of the cervical cancer vaccine was resumed.I hope that their task of "creating opportunities to acquire correct knowledge about cervical cancer during school days" will evolve and be inherited in the future.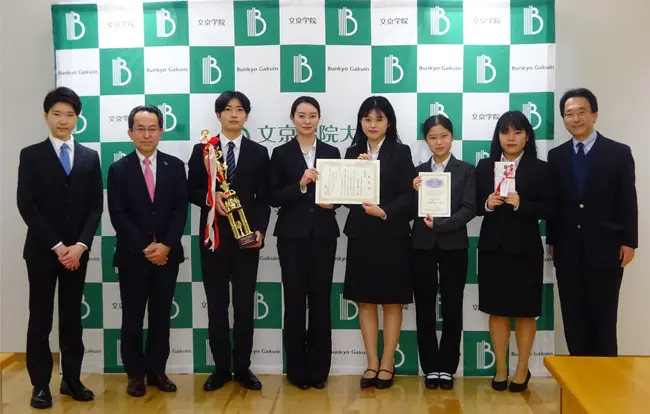 [Photo: Bunkyo Gakuin University Watanabe Seminar]
Award comment:
We started activities for the inner competition as a team from February with the theme of "cervical cancer" without knowing each other's faces and names.It has not been an easy path for us, who belong to the Faculty of Foreign Studies, to work on this subject, which requires medical knowledge.Although we were frustrated many times and the members clashed with each other, we worked hard toward the same goal of winning the highest award.The result was an award for excellence, but this experience has never been forgotten.
 The Komazawa University affairs seminar "Ear Guard Corps", which won the Jury Award, focused on the problems of its own generation and "acoustic deafness" by listening at a loud volume unique to young people whose earphones are commonplace.With the acceleration of Corona's online, this issue is becoming even more challenging.From the fact that "deafness" is a factor of "dementia", we consider it as a social issue that transcends generations and propose preventive measures for young people. In the process of analysis, we approach politicians and relevant organizations. It was highly evaluated that he worked with.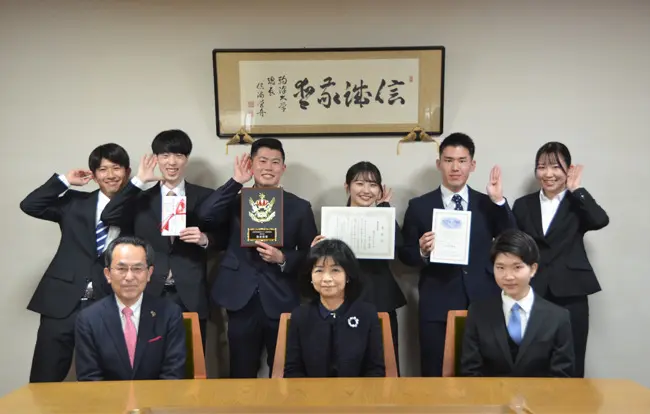 [Photo: Komazawa University Faculty of Global Media Studies, Seminar, Ear Guard Corps]
Winners' comments:
We are very honored to receive the Jury Prize at the 61st Japan Student Economy Seminar Kanto Subcommittee.First of all, I would like to express my sincere gratitude to all the members of the Toyo University Executive Committee and the judges for their great success in the 61st Congress.We have focused on "the risk of acoustic hearing loss among young people" as a social issue, and have continued educational activities to prevent it.We hope that as many young people as possible will be aware of the risk of deafness, and will continue our activities in the future.We are glad that you appreciate the results of your intensive efforts for about a year.Thank you very much.
● Teams participating in the final round
Chuo University Goto Seminar "Aviation Team"
Bunkyo Gakuin University Watanabe Seminar "XNUMXth Japanese Team"
Bunkyo Gakuin University Nitta Seminar "CMG'"
Toyo University Takeuchi Seminar "Pondegi"
Takasaki City University of Economics Sato Seminar "Taka PARK Survey Team"
Yokohama City University Shibata Seminar "Pickle"
Soka University Yasuda Seminar "Ray"
Komazawa University Seminar "Ear Guard Corps"
Soka University Yasuda Seminar "Rut"
Nihon University Akigawa Seminar "Delivery Team"
Komazawa University Matsuda Seminar "Team A"
Toyo University Takeuchi Seminar "Peridot"
 After finishing all the schedules, Mr. Soto Ito (61rd year, Faculty of Business Administration, Toyo University), Director of the Presentation Division of the 3st Inner Convention,
"We would like to express our sincere gratitude to all concerned for the successful completion of all the schedules. This year's tournament was held in real-time, presentation format at the online venue for the first time in the history of the tournament. However, XNUMX teams and XNUMX people participated, and we received higher-level presentations than usual. I think that there were some misconduct in the operation, but please forgive me. Thank you for your cooperation. "
It is a relief expression.
[Photo: Inner Tournament Executive Committee]
In addition, Professor Akihisa Fukasawa of Jissen Women's University, who served as the chair of the judging committee, made the following comments.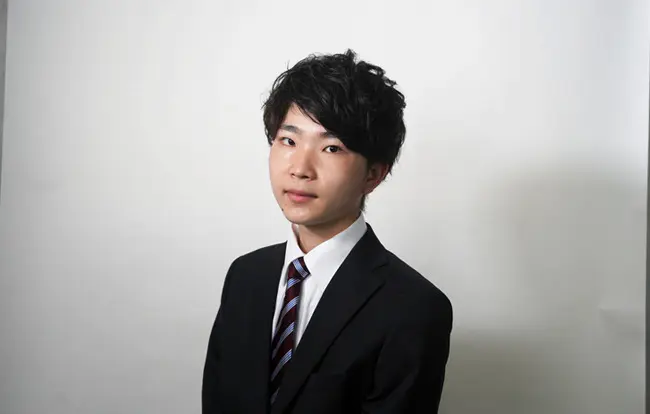 [Photo: Mr. Soto Ito (61rd year, Faculty of Business Administration, Toyo University), Director, Presentation Division, 3st Inner Convention]
"This year was a memorable one, which can be said to be the beginning of a new inner competition. Many teams who participated, the judges, and above all, the various restrictions of holding online, it was wonderful. Everyone involved in this tournament, including Director Ito and other executive committee members who led the tournament to success, and Professor Masakazu Shimada, the president of Bunkyo Gakuin University, who made efforts to prepare for the tournament. I would like to express my sincere gratitude to you. I have served as a judge 14 times so far, and the level of participating teams has improved year by year, and I feel the great potential of the students. I sincerely hope that the inner tournament will develop further. Thank you for your continued support. "
[Photo: Jissen Women's University Professor Akihisa Fukasawa]
As the judges said that the all-day presentation was quick when it was over, the themes other than the award-winning teams were rich in variety, and I was impressed that the content was meaningful as a marketing and social issue. It was a tournament.