As the digitization of society progresses rapidly, it is an urgent task for universities to develop IT human resources who will be responsible for it.Especially in the most important areas of mathematics, data science, and AI (artificial intelligence), the ability to apply knowledge is also necessary.In 2024, Toyama Prefectural University will open an information engineering department specializing in this field.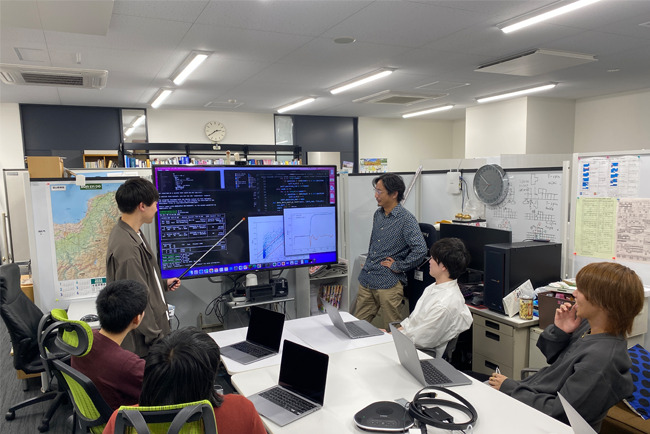 Image: "Designing an artificial intelligence model"
We are trying to build an artificial intelligence model for elucidating protein properties from a large amount of experimental data.

In the newly established Data Science Department
Departmental system reorganized from existing departments
In 2024, with the establishment of the Faculty of Information Engineering, Toyama Prefectural University will have a three-faculty system along with the Faculty of Engineering and the Faculty of Nursing.A junior college established for the purpose of promoting science and technology and contributing to the development of local industries, the university has been improving its education and research system for many years while responding to the needs of society. The Faculty of Nursing will open in 3, the DX Education Research Center in April 2019, and the Faculty of Information Engineering.The Department of Data Science will be newly established, and the Department of Intelligent Robotics and Information Systems Engineering currently in the Faculty of Engineering will be reorganized.
"The background to this is the global shortage of IT human resources. The Ministry of Education, Culture, Sports, Science and Technology is promoting the Mathematics, Data Science, and AI Education Program, and the Toyama Experts Council has issued a report on human resource development. Utilizing big data. Looking at the situation of GAFA (*), which continues to grow in the future, the importance of data science will increase further in the future.On the other hand, as data utilization in Japan is still in the future, we need human resources who can play an active role in the future. I want to raise
Professor Noboru Takagi, who is scheduled to become the Dean of the Department of Computer Science, speaks.
foundational theory and practical
Education that combines thinking methods
The Department of Data Science, which aims to learn a wide range of data science from mathematics to application, aims to become an expert, the Department of Information Systems Engineering, which handles various spatio-temporal data and researches innovative information systems, and the fields of information, mechanical, and electronic engineering. Intelligent Robotics Department where you can learn the basics of robotics and data science.While each department has distinct characteristics, there is also interrelated knowledge such as the use of big data.Therefore, there are many common curricula.
"For example, specialized subjects in data science are common subjects for all departments. At our university, data science is not regarded as a subject that fuses the humanities and sciences, but is characterized by literacy education that focuses on science and emphasizes mathematical theory. In addition, there are courses that emphasize design thinking and plans to have engineers from member companies of the Toyama Prefecture Machinery and Electronics Industry Association give lectures in an omnibus format."
It is also a course that makes use of the voice of the company that "I want people who can discover and solve potential problems while communicating", and it seems that it will be a great power for students in the future.
Professor Takagi reiterates that now that self-study programs are spreading due to the expansion of open data and AI services, there is necessary knowledge that can only be learned at university.
"AI tools can come up with a tentative answer by inputting data, but I want to develop human resources who can think about whether it is appropriate and what the reason is. Even so, in order to realize that, you need knowledge of the theory, which is the foundation, isn't it?
By practicing small-group education, which is a common policy of the university, we will be able to consult other than studying by setting up a homeroom teacher system for four years.In terms of liberal arts education and career education, the establishment of a center and the deployment of full-time faculty and staff will provide opportunities for students to come into contact with a variety of information and create an environment that facilitates consultation.